A Baby Shower Idea for Book Lovers
A Baby Shower Idea for Book Lovers
Babylist editors love baby gear and independently curate their favorite products to share with you. If you buy something through links on our site, Babylist may earn a commission.
Book-themed baby showers have been all the rage lately. They even made it to the top of Martha Stewart's list of best baby shower themes! Remember the days when being a book nerd made you uncool? Those days are over. Today, there's nothing more trendy than celebrating your love of literature at your baby shower. Have fun: the possibilities for creativity in snacks, invites, activities, decorations and party favors are endless. Here are some of our favorite ideas to help you plan your book-themed shower:
1. Children's Book Inspired Snacks
Lay out a festive spread of snacks and treats classic children's books. Do your parents still have the dog-eared favorites from your own babyhood? See if you can find any inspiration from those well-worn pages! Do any of these lovely old books ring a bell? The foods that go with them are simply delish.
(Thanks to carolina_snowglobe for letting us use these recipe images from her library baby shower).
Finishing touch: the menu on book spines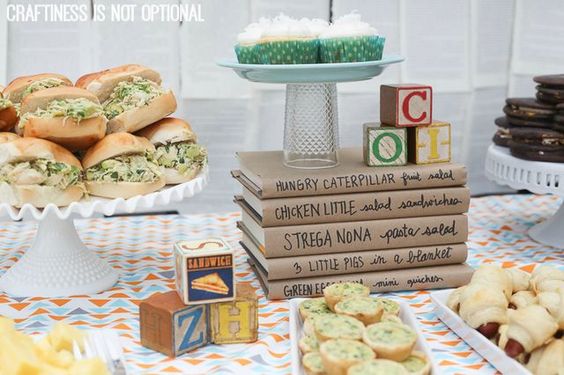 Remember using grocery bags to make covers for your textbooks in middle school? Use grocery bags or nice fancy paper to cover up a few thick books: then write the menu items on the spines of the books. It's a simple and easy way to really dress up the table. Plus, people with allergies and dietary restrictions always appreciate specific information.
2. Creatively Bookish Invites
Check-out card invites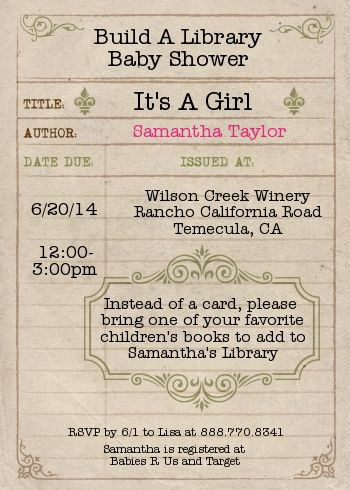 Is there anything more nostalgic than an old-fashioned library checkout card? This is guaranteed to make your guests smile when they open the envelope. Etsy and Zazzle have tons of design options: if you use printables, make sure to get some nice cardstock.
Invites with enclosed bookplates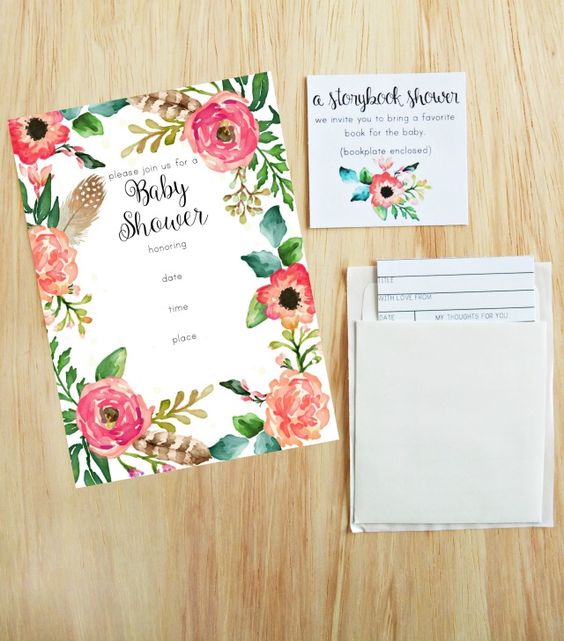 If you're asking your guests to bring a children's book, you may want to enclose a custom "bookplate" in the invitation. (A bookplate is a decorative label indicating ownership for pasting inside a book's front cover.) Design your bookplate with space for words of love from the book's giver. That way you'll feel the love every time you set baby on your lap to read.
3. Book Based Activities
4. Book Themed Decorations
Hang books on twine to create book garlands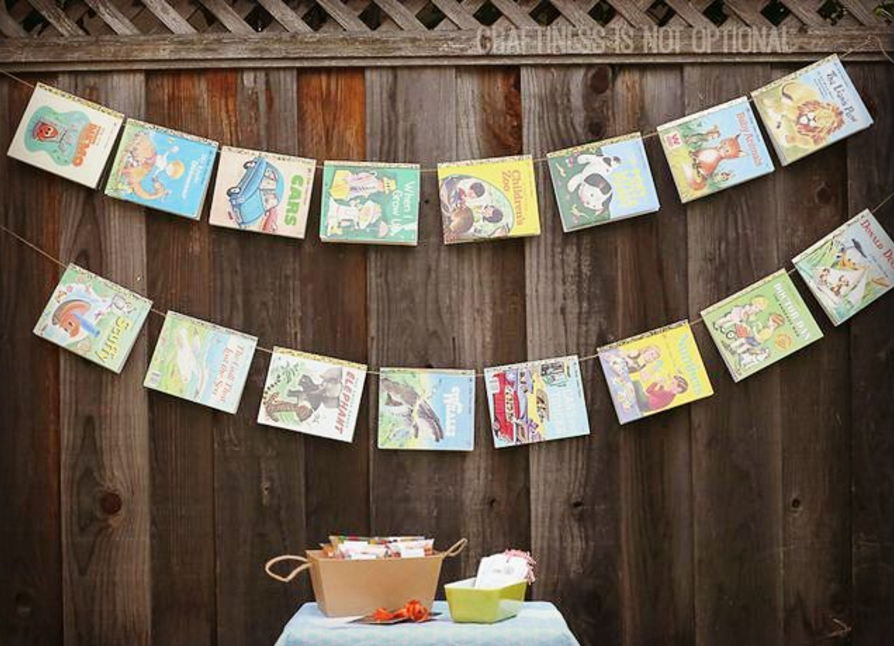 Don't have time for elaborate crafts? Just put up a string, get out your library of children's books, and hang the ones with the prettiest covers over the string. It won't hurt them; it'll just be like having a string bookmark inside them for a little while. (We know a lot of literature lovers wince at the book destruction involved in other book-themed crafts. Never fear; your beloved books will be safe up there on the string).
Use book quotes for decoration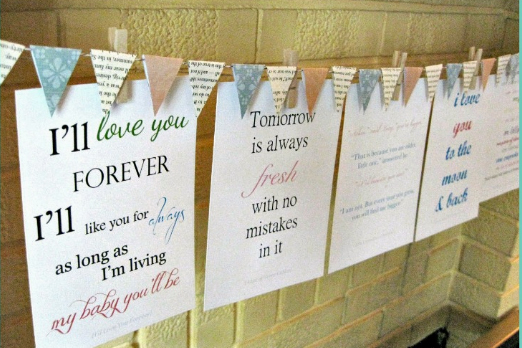 What are your favorite quotes from children's literature? Print them up! They'll be great conversation-starters: you'll be surprised at how many nostalgic stories and memories these quotes will spark.
5. Bookish Party Favors
Bookworm Gummy Worms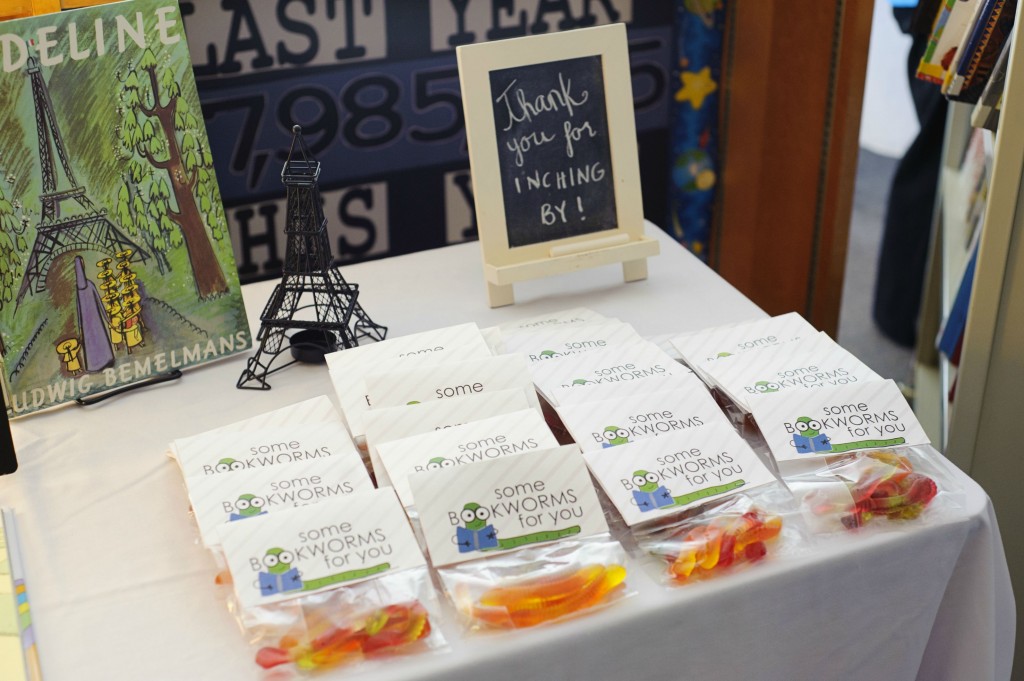 "Please enjoy these bookworms." Nothing says party favor like including a "hilarious" pun, amirite?! Plus, gummy worms sure bring back childhood memories. (If you're not a worm person, we hear that, "I am a book dragon, not a bookworm," is starting to be a thing).
Book Page Wrapped Favors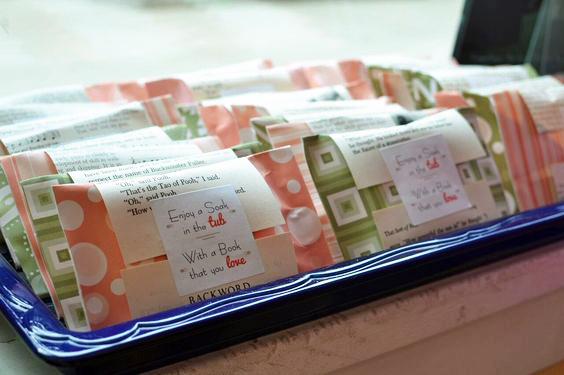 This mama-to-be wanted to share her favorite brand of handmade soaps with her friends, so she took book pages, wrapped them around the soaps, and closed them up with a sticker that said: "Enjoy a soak in the tub with a book that you love." If you're not into scented soaps, you could also do this with fancy chocolate bars, nice pencil cases, or any type of favor box really.
It's never too early to start loving books
Throw a book-themed shower and get your baby started on their lifetime love of books even before they turn zero years old. When they get older, they'll have an alphabet book or alphabet blocks full of friend and family love. What could be a better introduction to the world of reading?
This information is provided for educational and entertainment purposes only. We do not accept any responsibility for any liability, loss or risk, personal or otherwise, incurred as a consequence, directly or indirectly, from any information or advice contained here. Babylist may earn compensation from affiliate links in this content. Learn more about
how we write Babylist content
and the
Babylist Health Advisory Board
.
Keep your pregnancy on track. One email a week.