Best Gifts for Toddlers with Autism
Best Gifts for Toddlers with Autism
This expert guidance can help you pick the most appreciated + appropriate gifts.
Babylist editors love baby gear and independently curate their favorite products to share with you. If you buy something through links on our site, Babylist may earn a commission.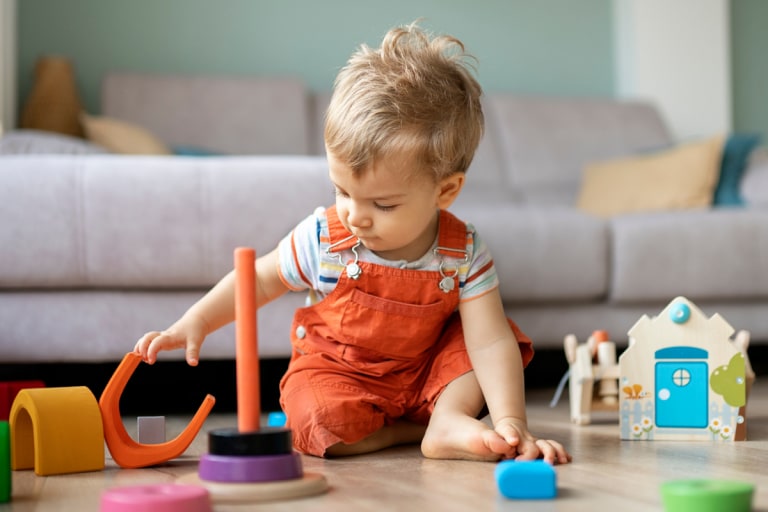 If there's a toddler in your life who's been diagnosed with autism or is suspected to have autism, one of the first things on your mind may be ensuring they have the right support. Whether you're the parent, grandparent or cool aunt/uncle of an autistic child, one of the best ways you can support their development in the early years is with gifts that encourage their unique skills and work well with their individual sensory needs.
What to look for in gifts for toddlers with autism
When it comes to giving individualized recommendations for gifts, "[it's] tough because ASD (Autism Spectrum Disorder) truly is such a wide spectrum; a child's skills, needs and preferences all vary so much!" says Kasey Dutra-Ley, the lead occupational therapist at Sensational Kidz in San Francisco.
The key thing to keep in mind is that every autistic child is different. Regardless of age, every kid on the autism spectrum will have a different level of sensory input they can tolerate, different ways of seeking sensory stimulation and different levels of skill development, including communication skills and motor skills.
So before talking about any specific gifts that may or may not be appropriate depending on the unique child, here are a few general things to keep in mind:
Avoid anything overstimulating
While it's true that sensory toys and experiences are widely recommended for (and usually widely loved by) children with autism, the best gifts provide just the right amount of sensory stimulation and no more. "Be cautious of toys that are too overstimulating," Dutra-Ley says. "Too many sounds, too many colors, too many functions—these toy traits can make a child with autism feel more disorganized, and instead of engaging with the toy, they may avoid it. The most important thing is that the toy has to make sense to the child."
Look for gifts that stimulate just one sense at a time, and, most importantly, make sure it doesn't trigger a sensory sensitivity. For instance, some autistic toddlers love stimulating their sense of touch while others may have varying levels of touch sensitivity or aversion. While something like kinetic sand or a textured ball would be great for touch-based sensory seekers, those gifts might be a total nightmare for touch-sensitive kiddos.
The same goes for experience-based gifts. "One child may be able to tolerate going on a train ride, but another might have a major meltdown because of all the unpredictable sounds, other kids around, movement, smells," Dutra-Ley says. "Even just the playground can be really overwhelming to some ASD kids due to the unpredictability of other children."
Not sure whether the autistic toddler in your life is a sensory seeker or a sensory avoider? Don't make any guesses—if you're a family member or friend, the absolute best piece of advice when buying for an autistic child is this: Ask the parents.
Clothes should also be sensory-friendly
Speaking of sensory, clothing can be a big deal for kids with autism (and adults with autism, too). Wearing clothing that's scratchy, hot or has the wrong texture can be extremely distracting to kids with sensory issues and can even be the cause of meltdowns.
Dr. Whitney Ence, a clinical child psychologist, behavior analyst and the Director of Clinical Services of The UCSF Center for ASD & NDDs, says that a lot of families with autistic children will stick to three simple rules for clothing:
Soft materials; nothing that's scratchy, non-breathable or clingy.
Cut out the tags or, better yet, buy clothes that are completely tagless.
Easy to pull off, like sweatpants or any stretchy elastic waistbands. Since motor skill delays are so common in children with autism, it's best to avoid frustrating pieces like buttons and zippers during the toddler years.
Lots of popular brands make adaptive clothes for kiddos with sensory sensitivities or motor skill delays. If you're considering a gift of clothing for an autistic child, take a look at these brands:
Don't follow the recommended age
The age that manufacturers recommend for their products sometimes don't apply to children on the autism spectrum, especially if they have delayed motor skills, Dutra-Ley says. It's extremely common for toddlers with ASD to take longer to meet motor skill milestones, so don't automatically go for gifts in their age range—there's a chance they might not be able to use the gift, at least for a while.
Instead, look for gifts that work for what the toddler can already do or that encourages the next step in skill development. If you aren't sure where their skill level is, as always, ask the adults who know the child best.
If you're the parent of an autistic toddler (diagnosed or suspected) and you're not sure if a gift is appropriate for their skill level, it's a good idea to have your kiddo evaluated by a physical therapist or an occupational therapist. They'll be able to tell you where your little one is at as far as developmental milestones and can suggest appropriate toys and activities.
Consider gifts other than popular toys
We get it, toys can often be the go-to gift idea for kids, especially when they're little. But depending on a child's unique sensory needs and special interests, the most popular toys on the shelves may not make the best gifts. "There are some children who aren't interested in toys at all," Dr. Ence says. "Maybe they don't know the function of it or how to play with it."
So before you dive right in to buying the hottest toy of the season, especially if it involves sound, lights or any overly complex functions, consider giving quieter or simpler toys, or gifts like books, clothing or experiences (especially quality time). Otherwise, Dr. Ence says, "you're going to buy all these toys, and then they don't even like the toys."
Gift experiences based on movement
While all toddlers are wiggly to some degree, toddlers who seek stimulation through touch and movement really crave getting their body moving. If you're giving the gift of an experience, try to involve movement whenever possible. "We learn through movement, and movement helps regulate the sensory system and acquire skills, so encourage movement whenever and wherever possible," Dutra-Ley says.
She recommends gifting activities like gymnastics, dance, martial arts, and swimming—just make sure the environment is supportive of your kiddo's unique sensory needs, whether that's reduced noise, smaller class sizes, dimmed lights or anything else they need to thrive.
Get gifts that can be shared
Some autistic children experience delays in social skills, so any gift that encourages interaction with others can help them develop and strengthen how they socialize. This can come in the form of quality time during an experience, like if you both participate in a dance class, or you can double up on toys for parallel play. "I like having two of something because then if the child is playing with it, I can imitate what the kid is doing," Dr. Ence says. "It's an opportunity to increase engagement."
With these guidelines in mind, here are expert-backed gift ideas that, in general, support motor and social skill development in autistic toddlers. And as always, it's a good idea to check with the parents if you're not 100% sure which gifts will work best for the kiddo in your life.
Best Gifts for Toddlers with Autism
This information is provided for educational and entertainment purposes only. We do not accept any responsibility for any liability, loss or risk, personal or otherwise, incurred as a consequence, directly or indirectly, from any information or advice contained here. Babylist may earn compensation from affiliate links in this content. Learn more about
how we write Babylist content
and
review products
, as well as the
Babylist Health Advisory Board
.
The freshest in parenting this week, delivered to your inbox