Best Gripe Water for Babies
Best Gripe Water for Babies
Need a remedy to soothe a fussy baby? Gripe water could help.
Babylist editors love baby gear and independently curate their favorite products to share with you. If you buy something through links on our site, Babylist may earn a commission.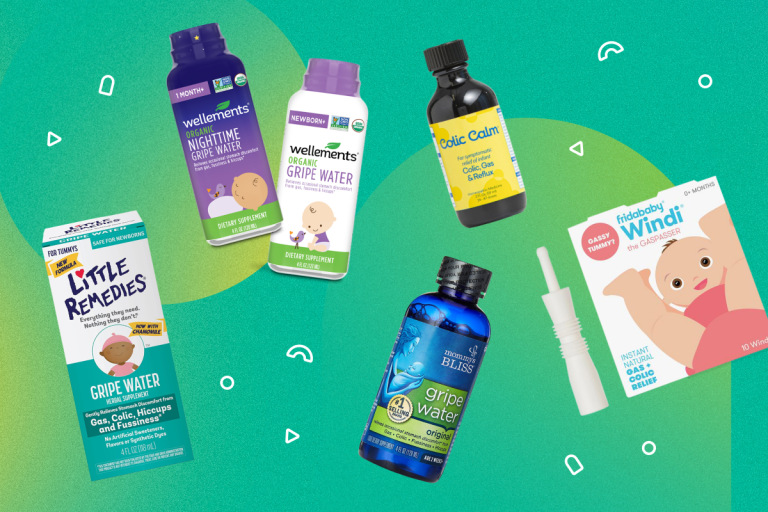 Prior to having a baby, if you'd have asked us what gripe water was, we'd have looked at you with a puzzled expression. But, as is the case with so many things when it comes to being a brand-new parent—turns out there's a lot you just don't know until you're deep in the trenches with a fussy newborn on three hours of sleep. And many parents swear by gripe water as a solution for calming a crying, colicky baby.
What is gripe water?
Baby gripe water is marketed as a quick relief from gas pain and upset stomach, two extremely common issues when it comes to babies and their immature digestive systems. It's also said to help with things like hiccups and colic.
Gripe water is an old-fashioned remedy that's been around for hundreds of years. Today, it's evolved into an over-the-counter supplement, available online and off the shelf in pharmacies and pretty much anywhere else that sells things for babies. Common ingredients might include sodium bicarbonate and herbs that are typically used to alleviate stomach pain (think things like chamomile, peppermint, fennel, ginger and lemon balm), but the exact ingredients can differ depending on the brand. It might also include agave to give it a sweet taste (not medicine-y) to help it be more palatable.
The most important thing to keep in mind is that gripe water isn't medicine; it's an herbal remedy.
But does gripe water really work? Unfortunately, the jury's still out on that one. While many parents swear by it, the evidence behind gripe water is mostly anecdotal.
Is gripe water safe?
The American Academy of Pediatrics doesn't have an official position on gripe water, but it definitely shouldn't be given to newborn babies younger than one month old. Check with your pediatrician before giving your baby any type of herbal supplement or medication, and that you carefully read all of the ingredients and the instructions.
This information is provided for educational and entertainment purposes only. We do not accept any responsibility for any liability, loss or risk, personal or otherwise, incurred as a consequence, directly or indirectly, from any information or advice contained here. Babylist may earn compensation from affiliate links in this content. Learn more about
how we write Babylist content
and
review products
, as well as the
Babylist Health Advisory Board
.
The freshest in parenting this week, delivered to your inbox