Ideas to Actually Get Diapers at Your Baby Shower
Last Updated: August 26, 2016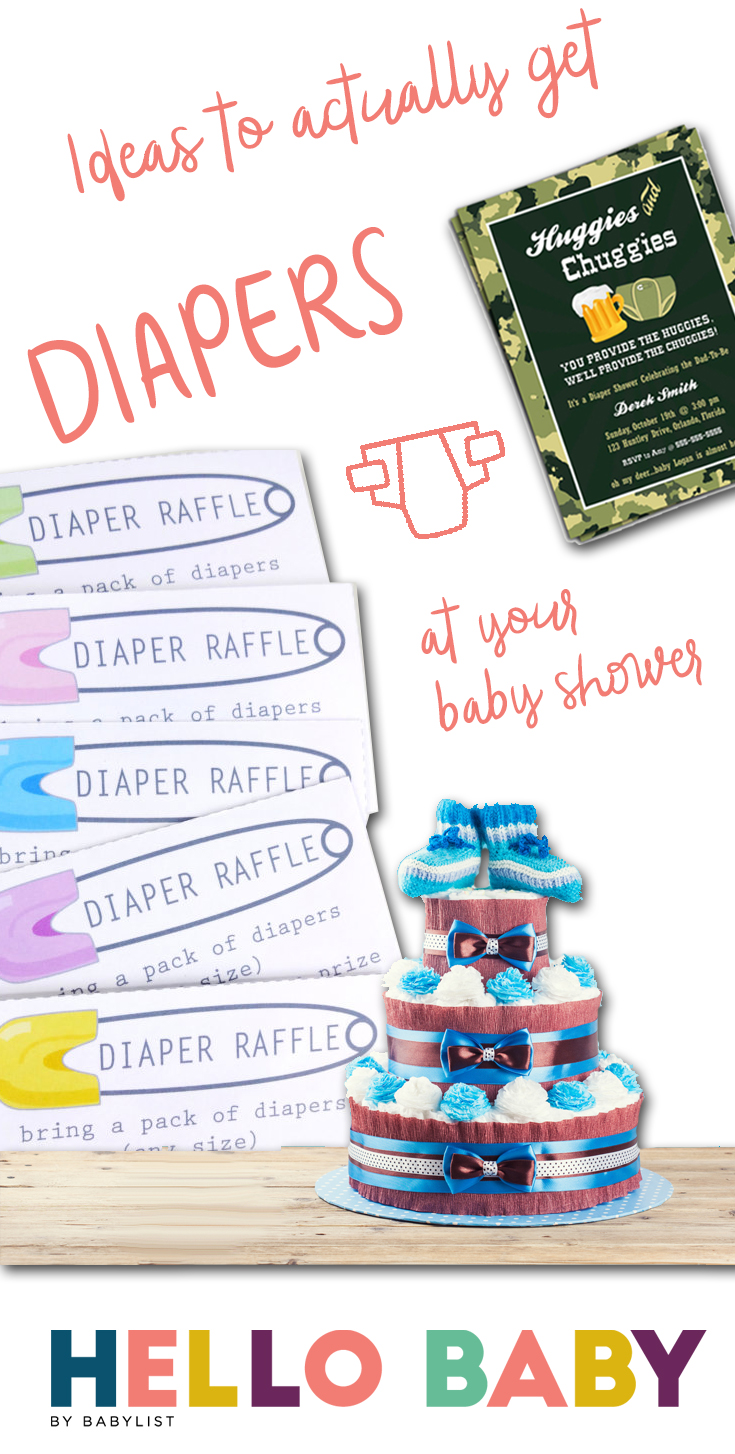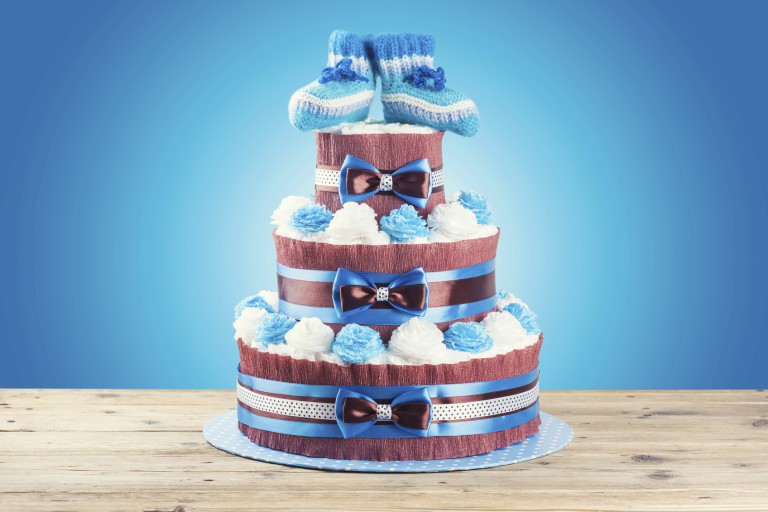 If you're wondering whether it's okay to ask for diapers in your baby registry, stop wondering right now. The whole point of your registry is to get you the essentials you need for baby, and the truth is this: diapers are high on the essentials list. Even though some people may hesitate to buy you a present that's going to end up in the trash, the reality is that those adorable newborn outfits aren't going to last long either. Plus, even though one pack of diapers doesn't cost much, in the long run, diapers are one of the biggest expenses of having a baby (the average cost is around $2,000 per child!).
Just in case your baby shower guests need a little more motivation to bring diapers, here are some (actually quite fun) ways to make sure your shower includes plenty of diapers.
Diaper raffle
Hold a raffle! But instead of buying tickets, tell guests they can enter the raffle by bringing a pack of diapers. (If you want, you can include something like these cute printables in your invitations to let them know about the raffle.)
These diaper raffle tickets are perfect for slipping into your baby shower invites. They come in boy, girl, and gender neutral colors.
Now, how will you pick an exciting prize to motivate everyone to enter the raffle? You can keep it simple by buying a gift card or two. Another clever idea is to raffle off all your "baby-unfriendly" household possessions like highly breakable decorations. This kills two birds with one stone since it will free up space in your apartment for that mountain of baby stuff. Emotionally based raffle prizes can be just as compelling and meaningful as financial ones. You could raffle off the chance to be "the first person to meet the baby after immediate family." With that kind of incentive, no one's forgetting their diapers!
Baby-Q
If you already have a lot of hand-me-downs, consider skipping a formal shower for a simple get-together with friends, like a baby barbeque. Ask everyone to bring a pack of diapers or wipes in lieu of gifts.
You can customize your BabyQ with these adorable custom labels for your bottles of barbeque sauce. It's an easy decorating idea, that will give your guests a good laugh.
Guys-only diaper party
If your baby shower is planned for girls only, recruit your partner's best friend to throw a parallel shower for the dad-to-be with diapers as the only gifts. The guys will get a kick out of showing up with a pack of diapers for their buddy. If this sounds a little strange to you, let us reassure you: it's totally a widespread tradition by now.
Tell the dudes you won't subject them to any elaborate baby crafts or baby-themed games. They can just fling their diapers on the pile, crack open a beer, grab a plate of barbeque, and watch the game. (Non-stereotypical dads: please forgive us for that horrendous mass of dude stereotypes we just used).
Baby showers aren't just for women anymore! Dad can do his part by mobilizing his army of friends to contribute diapers to the cause, using these MANLY invites. Customize this invitation with your own name and dates.
A diaper cake
If your shower planner is good at crafts, tell her you're really hoping for a diaper cake as your shower centerpiece. She'll get to create an amazing decoration, and you'll get the diapers you need.
Flower cake, Flickr Photo Display; elephant cake: Family O'Abe; ribbon cake: Melinda.
There will never be a better opportunity for her to exercise her mad crafting skills. The possibilities for imagination are unlimited. Here are some diaper cakes that blew us away with their creativity:
For Harry Potter fans, here's a full tutorial on how to build a Hogwarts Express diaper cake. (The Muggles won't understand, but that's okay.)

The mad genius of this Dr. Seuss diaper cake is worthy of the Cat in the Hat.

Nerdy parents? Why not try an R2D2 diaper cake?
If your host would rather make food than crafts, the Honest Company offers fun pre-packaged diaper cakes in six different styles to match your shower theme or decor.
Other diaper crafts
Photo Credit to Kate Elliot via Flickr
Speaking of imagination, you don't have to limit yourself to cakes. (For some people, the idea of putting diapers in a "cake" is inherently unappetizing.) Thankfully, there are numerous other crafting possibilities to help you decorate your baby shower with the most fabulous diaper creations ever seen!
You can create a jolly diaper wreath, festooned with baby shoes and lotions instead of pine cones and holly berries.

It's impressive how much these diaper bouquets actually look like graceful white roses.

Or what about a diaper centerpiece shaped like a giant rose?
(First time parents, we're not joking. All of these crafts are totally real. What a wonderful, magical world you're about to enter.)
Diaper-themed activities for your shower
Our favorite diaper-based entertainment is laying out a table of diapers, providing a handful of colorful non-smudge markers, and asking guests to write messages on the diapers for mom and dad. Thinking of jokes or words of wisdom to add to the diapers will be a lot of fun for your baby shower guests! And best of all, it'll help you feel the love of your friends and family during those late-night changes.
You can print and frame a sign to explain what the table is all about. One sign we came across in our research said, "Write something funny or encouraging to give mom or dad a little pick-me-up in the 'wee' hours of the night." Another sign said (with admirable rhyming skills) "Pick up a diaper and write on the booty, something to take their mind off the doody!"
Request a diaper throne
Boxes of diapers are surprisingly bulky and durable… so you can always say that as the guest of honor, you demand a throne… made of diapers. It's been done. Use your biggest box of diapers for the seat and build the armrests and back of the throne using more medium-sized boxes. Best photo opportunity of your life… no?
IMPORTANT! Don't forget to specify desired size and type of diaper.
What could be worse than getting hundreds of entirely the wrong kind of diaper? Make sure the instructions passed through baby shower host, baby registry, diaper shower invites, etc. are detailed and specific. One important tip is that you DON'T want two huge boxes of every size of diaper–the larger sizes will linger in your garage a long time, and the largest size may never be used if your baby gets potty trained early.
Our Baby Registry 101 suggests asking for a couple boxes of size Newborn, four to six boxes of Size 1, and maybe a couple boxes of Size 2. (You can also ask for gift cards or diaper subscriptions to Amazon, Diapers.com, or the Honest Company, but it's harder to do awesome crafts with a pack of gift cards).
If you're requesting cloth diapers, be sure you put a lot of thought into what kind will work best for you. They run the whole gamut from rectangular pieces of fabric that will require diaper origami skills to "pocket" diapers (that you stuff with the desired amount of absorbent material) to all-in-one diapers that are just as easy as disposables.
The magic of subscriptions
If exuberantly diaper-themed parties and crafts aren't really your style, you can take the quietly tasteful approach of marking diaper subscription services high-priority items on your BabyList registry. After all, getting a diaper delivery service can really reduce your shopping trips! The Honest Company offers a Diapers and Wipes delivery service, and for cloth, look for a diaper laundering service in your town.
Let us know how it goes
Are you including diapers on your baby registry? We'd love to know how it goes for you! Feel free to share your stories (or your photos of your amazing diaper-themed crafts!) with us on the BabyList Facebook page or at the BabyList Twitter or Instagram handle. Happy diaper hunting.