Your 38-Week-Old Baby
Parks, push toys and will they be a righty or a lefty?
Babylist editors love baby gear and independently curate their favorite products to share with you. If you buy something through links on our site, Babylist may earn a commission.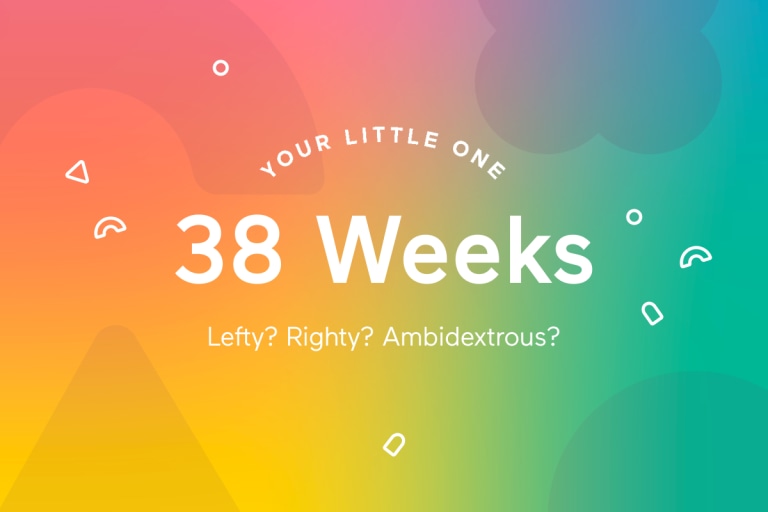 Will Baby Be a Lefty or Righty?
You won't know if you have a lefty or righty for quite awhile, but you may notice your baby using one hand a bit more than the other to reach for toys or hold onto objects.
According to the American Academy of Pediatrics, toddlers may show a clear tendency toward right- or left-handedness by their second birthday. However, many children don't show this preference for several years. In fact, some kids remain ambidextrous (they use both hands equally) until kindergarten!
While about 90 percent of people are right-handed, hand dominance is largely influenced by genetics and your kiddo's own unique nervous system. So for now, don't get hung up on whether your baby is a righty or a lefty. Rather than intervening and steering them toward using one hand over another, let their own natural process of hand preference steer the course!
How to Be a Pro at Park Time with Baby
Think your tot is still too little to enjoy the park? Think again. Now is the perfect time to experience the great outdoors at a neighborhood playground. Head straight to the baby swings for an activity that's sure to bring smiles and laughs (take lots of pics!). These bucket style swings provide all-around support (with leg holes) for babies and toddlers. Better yet, you can even seat two babies back to back in the same swing, which is perfect for multiples. As long as your kiddo can sit upright and has good head control, you're good to go!
Here are a couple quick tips to navigate the park with a baby:
Look for equipment designed for toddlers. Many parks have designated areas for the youngest explorers. While most of the equipment is probably still too advanced for your baby, you can help them crawl up steps, play with activity panels and cruise around various structures to work on standing. Even things like the mulch on the ground can be exciting to curious kids!
Try the sandbox. Babies will have fun exploring the texture of sand, scooping it up with shovels and filling up cups (so bring a few sand toys along!). If weather permits, take off your tot's shoes to avoid sand getting stuck in all of the crevices. Use wipes for easy hand cleanup.
Stock the diaper bag. Pack your diaper bag with essentials: a changing pad (you never know what bench will become an impromptu diaper changing station!), diapers, wipes (for hands too!), snacks, water and sunscreen. Squeeze pouches of purees or yogurt, cheerios, Puffs and cut-up fruit are easy on-the-go options. You can also bring a picnic and find a spot to have lunch.
Make new friends. We're talking about you! Another perk of going to the park is that it gives you a chance to meet parents with similarly aged kids in your area. You never know what kind of convo you'll strike up at the swings.
Don't feel like you need to overdo it. Simply sitting in the stroller and having a snack gives your kiddo a chance to take in some fresh air and enjoy people watching.
Push Toys for New Walkers
And they're off! A great push toy gives almost-walkers just the right amount of support to cruise around on their own two feet. Once your kiddo has mastered pulling themselves up, a push toy helps build balance, coordination and motor skills that eventually lead to walking. Better yet, many of them do double duty as engaging toys with built-in activities, blocks, songs and sounds. Little ones can enjoy these fun features well before they're standing and pushing.
When choosing a push toy, make sure it's sturdy, has good traction on the wheels and is the right height for your baby. Some push toys features adjustable heights, as well as speed and push controls. Keep in mind: never let your baby use a push toy unattended or near stairs, fireplaces or other potentially dangerous areas in your home.
This information is provided for educational and entertainment purposes only. We do not accept any responsibility for any liability, loss or risk, personal or otherwise, incurred as a consequence, directly or indirectly, from any information or advice contained here. Babylist may earn compensation from affiliate links in this content. Learn more about
how we write Babylist content
and
review products
, as well as the
Babylist Health Advisory Board
.
The freshest in parenting this week, delivered to your inbox