What I Packed in My Hospital Bag
What I Packed in My Hospital Bag
All the must-pack favorites from a mom who's been there and done that. (Twice.)
Babylist editors love baby gear and independently curate their favorite products to share with you. If you buy something through links on our site, Babylist may earn a commission.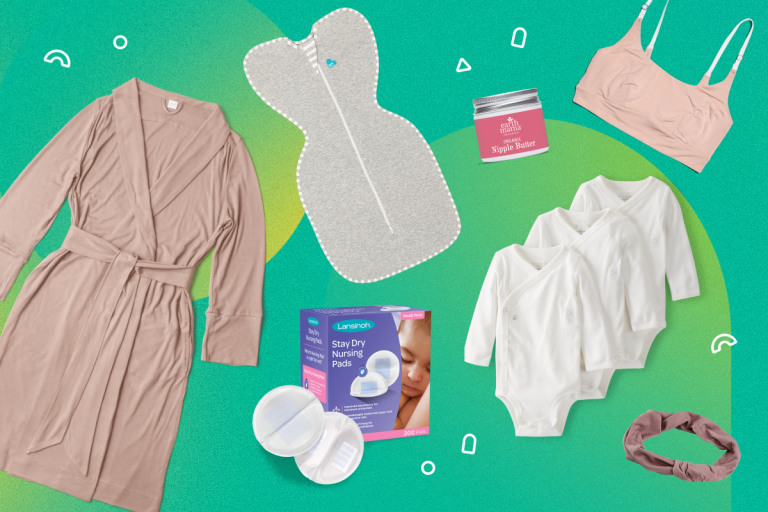 Although I'm a fairly organized person, the idea of packing my hospital bag for childbirth admittedly left me a little flustered. What type of clothing would I be comfortable in after I delivered? Would I need different things if I had a C-section? What sorts of items was the hospital going to provide for me and what should I bring from home? And how do you pack for a tiny baby you've never even met?
Like most parents-to-be, I scoured the internet and found some pretty good information on what to pack. But by far the best information came from my chats with friends and family who had been there and done that. Which is why I decided to share my own hospital bag packing list–so I could pass along all of the good things I learned to others who might be asking themselves the same questions.
What To Pack in Your Hospital Bag: A Quick Overview
Before I dive into my favorite products below, here's a quick run-through of hospital bag basics to help you get your bearings.
Comfy clothes. I'll cover the specific things I loved below, but in general, think clothes that aren't too restrictive (other than a supportive bra) and a few options in case of a C-section, as well as some sort of slip-on shoes.
Toiletries. This includes things like a hairbrush, regular or dry shampoo, toothbrush and toothpaste, deodorant and skincare (things like face wash, moisturizer and makeup wipes). Don't forget your glasses and/or extra contacts, if you wear them. You may also want to toss in a bath towel if you plan on showering, as the ones the hospital provides are pretty skimpy, and your own pillow if that's something that will make you more comfortable.
Important docs. Think: your ID, insurance card if you have one, and a few copies of your birth plan if you've written one out.
Snacks and drinks. Birthing a baby is hard work! Don't rely on hospital food to get you through.
Electronics. Other than your phone and charger, think through if you'll want any other electronics such as an iPad or a Bluetooth speaker.
A car seat. If you're driving home, this one is a non-negotiable, as the hospital won't let you leave without a safe car seat for your baby.
Your pediatrician's contact information. Hospital staff will ask you for this information several times throughout your stay, so it's good to have it on hand.
Stuff for your support person. Most partners or support people appreciate a pillow and a blanket, basic toiletries and some snacks and drinks.
What I Packed in My Hospital Bag
---
Jen LaBracio is Babylist's Gear Editor, a role that perfectly combines her love of all things baby gear with her love of (obsessive) research. When she's not testing out a new high chair or pushing the latest stroller model around her neighborhood, she likes to run, spin, listen to podcasts, read and spend time at the beach. She lives in New Jersey with her husband and their two boys, Will and Ben.
This information is provided for educational and entertainment purposes only. We do not accept any responsibility for any liability, loss or risk, personal or otherwise, incurred as a consequence, directly or indirectly, from any information or advice contained here. Babylist may earn compensation from affiliate links in this content. Learn more about
how we write Babylist content
and the
Babylist Health Advisory Board
.
Keep your pregnancy on track. One email a week.