How to Choose a Car Seat
Last Updated: March 5, 2017

Did you know only about 20% of American parents install and use their car seat correctly? So the safest car seat is the one you can't mess up on installation.
Since all new car seats pass strict federal safety regulations, how you use it matters waaaay more than which one you buy. Some car seats do overperform more on crash tests than others (more on that below). You'll also want to consider how much you can spend, what will fit in your car, if it needs to fit in your stroller, and how the car seat grows with your kid. In this guide, we cover all that and more.
🚘 Finding the safest car seat
What makes a car seat safe?
It is the right size for your child's weight, height and age.
It is installed tightly in your car (unable to move more than an inch side-to-side or front-to-back).
The harness straps are positioned at or below baby's shoulders and are tight enough that you can't pinch the harness.
The car seat is reclined to a safe angle so your baby's head can't fall forward.
Simple rules, but sometimes tricky to implement on the field! The best way to make sure your installation is safe is to find a Child Passenger Safety technician to check your work.
Be careful with used car seats. Look for its expiration date on the bottom and make sure it's never been recalled. When in doubt, go new.
All star ✨ crash test performers!
When you look at crash test data, many seats have a higher safety margin than what is required. The best-performing seats are the Chicco Keyfit 30, the Graco Click 40, and the Safety 1st onBoard 35 Air, with the Britax B-Safe as a runner-up. (Wondering what's up with those numbers at the end of the brand name? That refers to the maximum weight limit for your child to use the car seat).
Fun fact time! A car seat works similarly to a bike helmet with a rigid shell to resist impact, shock-absorbing hard foam filling, plus some softer padding on the inside for comfort. They reduce the risk of infant death by 71%. (For comparison, an adult's seatbelt reduces their risk of death by half). Just imagine if you were riding inside a bike helmet that encircled your body… 👷 That's what your baby's doing. Yay safety!
Safety features to look for
A 5-point harness: this is two shoulder straps, two waist straps, and a between-the-legs strap that all meet in a middle buckle. Five-point harnesses are safer than three-point harnesses because they spread the crash forces over more areas of the body. They also hold your baby in place, preventing them from wiggling into an unsafe position.

Side-impact protection: In about a quarter of crashes, your car is hit from the side rather than the front. Currently, side impact protection is unregulated, so the National Highway Safety Administration is researching how to test side-impact protection and what laws should be passed. You definitely want something that advertises side-impact protection, but be skeptical of claims that one brand has "more" than another because there's no objective testing standard yet.

Easy harness adjustment: Having the harness fit your child perfectly makes the car seat MUCH safer for your child. If the harness is easy to adjust, you'll probably do it more frequently.
Want to know which infant car seats were parent favorites? We cover that in our guide to the Best Infant Car Seats of this year.
Safest placement in your car
All infant car seats must be rear facing by law (it's five-times safer). The convertible car seats for older babies are called "convertible" because they can either be front or rear facing. However, the best convertible seats allow your child to stay rear facing for a longer period of time.
In most cars, the middle of the back seat is the safest spot for your car seat. However, if you're dealing with two car seats or a small car, there might not be room in the middle. If you do have to put your child on the side, you can make them safer by using the LATCH (Lower Anchors and Tethers for Children) system, which is built into cars and car seats built after 2002. The two lower anchor points are found in the seat crack.
Car seats by age
An infant car seat is the light, portable kind that easily clips in and out of the car and stroller. The average baby outgrows them between 10-14 months old. (Exactly when depends both on your baby's size and the height and weight limits on the specific car seat.) It is always rear-facing, the safest position for baby.
A convertible car seat can be used either from birth OR from when your baby outgrows the infant car seat. It's too heavy to tote around on an everyday basis and won't fit in a stroller.
A booster car seat is for when your kid outgrows their convertible car seat but isn't tall enough to use an adult-sized seat belt. You'll typically transition a kid to their booster car seat when they're between 40 and 65 pounds. They'll stop using it between the ages of ten and twelve.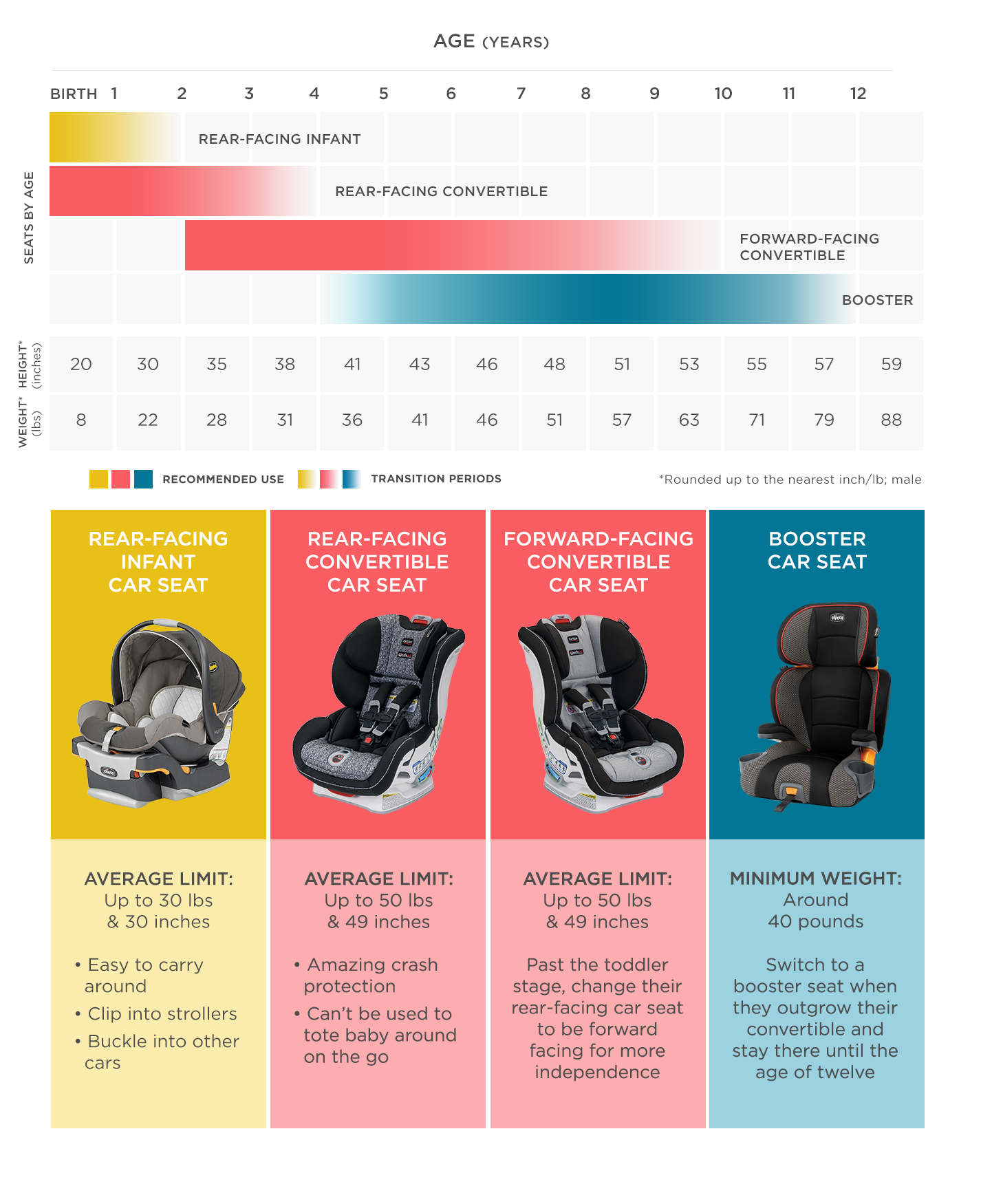 When does your child legally graduate to a convertible or a booster? Laws vary from state to state so look up your specific regulations.
Infant car seats are sometimes advertised as having a high weight or height limit (meaning you can use the infant car seat longer). If you're relying on cabs for transportation, springing for a roomy, long-lasting infant seat makes sense. It's a huge pain to use a convertible car seat in a cab. If you have your own car, a roomy infant car seat matters a bit less. You're going to have to switch at some point anyway.
Should you start with an infant or convertible seat?
At this point, you may be asking yourself, "If I just have to buy a convertible car seat ANYWAY when my baby gets bigger, why buy an infant car seat in the first place?" Well, an infant car seat is a handy-dandy portable device that can be put to good use inside and outside the car. The hefty convertible car seat is semi-permanently installed in the car.
Reasons to start with an infant car seat
Babies under six months can't sit up on their own, and only a few strollers out there have the ability to fully recline the seat. If you want to stroll with a newborn, you often HAVE to clip in an infant car seat (or bassinet).
You can unclip and move your baby without interrupting a nap.
During hot or really cold weather, you can store the infant car seat inside, so it's always a comfortable temperature.
Although infant car seats do click into bases, you can also install them using just a seat belt, making them easier to use in friend's cars and cabs.
Carrying the infant car seat around means your baby has a cozy place to snuggle up when you're on the go. You can carry it into a store or restaurant with you, for example.
Reasons to start with a convertible car seat
You have a philosophy of trying to limit the number of products you buy (minimalism, environmentalism, frugality, or what have you).
You think your baby will be a light sleeper. (Particularly restless babies will wake up when you lift their car seat, even if you don't take them out of it!)
You'd rather wear your newborn in a carrier than carry a car seat or stroll them.
A rear-facing convertible car seat can be safer than a rear-facing infant seat for babies approaching a year old. Having more head room makes it safer, because it reduces the chance of getting their head bumped.
Many car seat manufacturers specify is that a child is too tall for a car seat when the crown of their head is less than one inch from the top of the carrier shell (or when they exceed the height limits of the seat). However, in the crash tests conducted by consumer reports, a 12-month sized crash test dummy bumped its head way more often on the infant seats than the convertible seats. So infant seats become less than ideal when your child is close to outgrowing them. Whether you start with the infant or the convertible, you definitely want to upgrade to the convertible in a timely fashion!
How do most parents do it? Even though you can skip infant car seat and go right to convertible, more than 80% of parents still register for an infant car seat!
How much should I spend?
Consumer Reports says that many mid-priced models work as well as or better than pricier ones. So you're not necessarily going to make your baby safer by spending more.
The infant car seats in our Babylist store range from $130 - $500. The car seats outside of our curated selection? $46 - $700.
Convertible car seats are a little bit pricier on average, but remember you have to get them anyway. Our store's convertible car seats collection is $200 - $500, and the full range for convertible car seats is more like $40 - $1000.
What are the easiest to use car seats?
Ease of installation
Infant car seats can be installed with our without a base, and they can use either the car's seat belts or the LATCH system. So the answer to the question, "What's the easiest to install car seat?" depends on what method you'll be using to install it on a regular basis.
If you're going to be installing your car seat using the LATCH system, the 4moms Self-Installing Car Seat, the Chicco Keyfit 30, and the Cybex Aton 2 all have really great easy-install scores. Some great features to look for in any brand: 1) an easy-to-reach LATCH tightener and 2) bubble level indicators so that you can see whether your car seat is level.
If the seat doesn't have the bubble level indicator, it will have a line on the side of the base, and you have to look and see if the line is level with the ground. As you can imagine, the bubble level indicator is much more convenient and precise.
If you're mainly going to be using your seat in cabs and friend's cars, there are a few seats that are especially easy to install using the seat belt: Peg Perego, the Uppababy Mesa, and the City Go. Look for a taxi-safe belt path and a built-in lockoff device which clamps the seat belt in place so that it can't loosen. (Most of the big car seat brands do have built-in lockoff at this point). Find a video that demonstrates the seat belt installation of your particular car seat brand, and practice doing it a few times before you set out.
Ease of adjustment & use
Part of car seat safety is making sure the harness fits your baby's body just right. This means changing the harness default settings as your baby grows and changes in size. Although all safety seat harnesses adjust, make sure the adjustments are easy to reach and simple to use. One key phrase to remember is "no-rethread harness." Lots of parents find those more user-friendly to deal with in general.
In terms of the harness button and buckles, you want something that's too stiff for a baby or toddler to undo by themselves, but not so stiff that you're cursing every time you have to use it. If the button is a little uncomfortable on your thumbs, but overall doable, it's probably about right. 😊
Ease of cleaning
Seats made with smooth and/or water-resistant fabrics will wipe clean more easily than seats with textured or absorbent fabric. For big messes, it's nice to have a removable, machine washable cover, but sometimes getting a removable cover off can be difficult.
Make sure your car seat fits into your car
Not all car seats fit in all cars, so it's great to use a retailer that accepts returns or permits you to test-install the car seat. Besides making sure the car physically fits in your back seat, the angle of your seat and the placement of your seat belts can also affect whether your car seat is a good fit for your car. Look in your vehicle's owner's manual for any special instructions
If you have a small car, don't pick a seat with a large base. When in doubt, measure your car's back seat and compare it to the measurements of the car seat's base. The Chicco and the City Go car seat have smaller bases (under 20 inches long) so they're a good choice for compact cars.
Other great features to consider
Pick a seat that fits with your favorite stroller
Not all infant car seats fit in all strollers. In fact, ensuring that your car seat and your stroller fit together can be rather complicated. You can buy them together in one purchase (just search for "travel system"). Or look for an adapter that makes strollers and car seats from different brands fit together. Check out How to Choose a Travel System for all the details.
Pick a seat that's easy to carry
What's considered light for an infant car seat? One of the lightest car seats we offer, the Graco Snugride 35, comes in at 7.5 pounds. Infant car seats that are over ten pounds are considered to be on the heavy side. Remember–when you're also carrying baby, a pound or three can make a big difference!
Canopy
How much shade coverage and sun protection does this canopy provide? Does it have a peekaboo window? (That's a little bit more of an optional extra, but it can be nice for checking on baby while strolling). Is the canopy stable enough to resist the tugging of small hands and feet?
Congratulations on your car seat expertise! 🎓
If you've made it this far, you're well on your way to becoming a car seat expert–congratulations! If you still have more questions about choosing what car seat is perfect for you, try contacting our Happiness Heroes. As professional registry consultants, they can help you make the perfect choice!