8 Ways to Make Bathtime Comfier for You and Baby
8 Ways to Make Bathtime Comfier for You and Baby
Babylist editors love baby gear and independently curate their favorite products to share with you. If you buy something through links on our site, Babylist may earn a commission.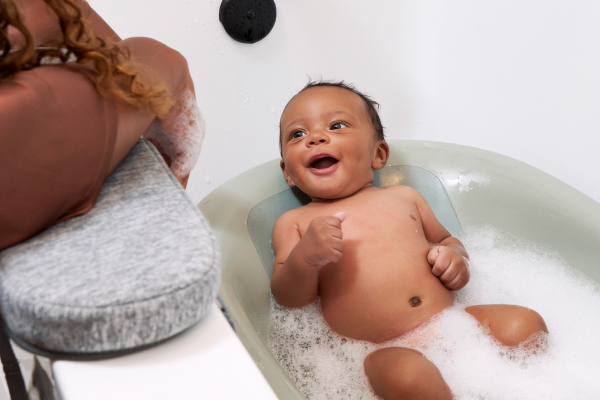 While you don't need to bathe babies every day, for a lot of families, the nightly bathtime routine can be a relaxing tool to wind down before bed and a special time to bond with baby. But getting your little one clean isn't always the most ergonomic process—especially for your elbows and your knees. But these innovative bathtime essentials can make bathtime safer and more comfortable for both you and your baby. Watch the video above to see them in action.
A Bath That Works Outside the Tub
A standalone tub like The Bath Tub by Lalo lets you bathe your baby on any floor of your home—from the kitchen to the bathroom. The soft foam backrest supports newborns starting at birth, and the three-stage design grows with your baby through the toddler years and beyond. (You can watch the video above at the 1:23 mark to see how it converts from infant to toddler tub.)
Plus, unlike other tubs, when your baby no longer needs an infant bath, you can use the Lalo tub as a stylish sensory bin or for toy storage.
The Sleek and Functional Rinser
Even babies who love bathtime don't always love getting their hair rinsed. A rinse cup like the one below is designed to keep water out of baby's eyes thanks to a flexible lip that helps you pour water away from their face. It's made with non-toxic, BPA-free plastic and rubber, and as baby grows, it can be a fun tub-time pouring toy, too.
Between the bending and kneeling, baby bathtime can feel like an unexpected yoga class. But these essentials can make it feel more like a spa treat for everyone. Watch our complete video above to see Lalo's bathtime essentials at work.
This article is sponsored by Lalo. Babylist's free site, apps and emails are made possible by our sponsors. We limit our sponsored content to relevant partners that offer products and services we believe in and use ourselves.
This information is provided for educational and entertainment purposes only. We do not accept any responsibility for any liability, loss or risk, personal or otherwise, incurred as a consequence, directly or indirectly, from any information or advice contained here. Babylist may earn compensation from affiliate links in this content. Learn more about
how we write Babylist content
and the
Babylist Health Advisory Board
.
The freshest in parenting this week, delivered to your inbox