This New Smart Baby Monitoring System Tracks Pulse Rate, SpO2 and Skin Temp
This New Smart Baby Monitoring System Tracks Pulse Rate, SpO2 and Skin Temp
Video: Stork's Baby Smart Monitor Tracks Pulse Rate, Oxygen Saturation and Body Temperature
Babylist editors love baby gear and independently curate their favorite products to share with you. If you buy something through links on our site, Babylist may earn a commission.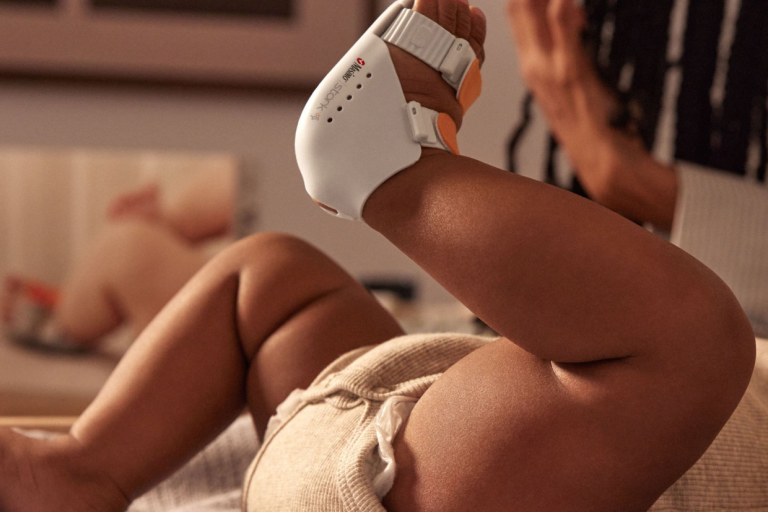 It's perfectly normal to want to check in on your baby every five minutes while they sleep. But that isn't always great for your (or your baby's) sleep. If you think you may be the kind of parent who is "just going to pop into the nursery real quick" several times a night, the new Masimo Stork Smart Home Baby Monitoring System may just be the above-and-beyond monitoring system you're looking for.
In addition to audio and video, the Stork system also tracks three of baby's key health indicators: pulse rate, oxygen saturation and body temperature. Watch Daniel, a dad of three, demo the Stork Vitals+ in the video review above.
What Is the Stork Smart Home Baby Monitoring System?
Hospital NICUs have used Masimo's Signal Extraction Technology (SET) to monitor babies for over 25 years. Now, that technology is available for parents and caretakers to use at home. The Stork system includes a combination of the Stork boot, the Stork app and the Stork camera or hub (depending on which model you choose—their Vitals+ system includes a video monitor whereas the standard Vitals system collects data using this hub. Here's how it works:
A small removable sensor tucks securely into the bottom of the boot, and then you just place the boot on baby. Note: While it may look rigid in pictures, the soft silicone boot is specifically designed to be comfy enough that your baby won't notice it. The boot and sensor pair with the Stork app to continuously track baby's health data—pulse rate, oxygen saturation and temperature—and they maintain accuracy even if your baby is a squirmy sleeper. The app can save your baby's data, events, and milestones, and create summaries of your baby's averages so you can get a quick snapshot of their health trends whenever you need it. You'll also be able to see baby's awake time and asleep time (helpful for figuring out their ideal nap schedule or bedtime), and track room temperature and humidity levels to make sure their sleep environment is nice and comfy.
What Else Does a Stork Smart Home Baby Monitoring System Do?
Besides tracking tons of information about baby's health and sleep data, the boot has a bunch of user-friendly perks, like:
Long-lasting battery life and quick charge: The boot's sensor lasts 16 hours on a full charge, and fully recharges in just two hours, so you can get through a full night's sleep and a good chunk of your daytime naps on a single charge.
Grows with baby: No need to worry about those growth spurts that seemingly happen overnight—the Stork Vitals and Vitals+ systems come with two adjustable boot sizes (small and medium. A large boot is available separately and fits babies up to 18 months).
Machine washable: The boot is made of medical-grade silicone, which means it's safe to pop in the washing machine for quick cleaning (just make sure to remove the sensor before you do!), and will retain its shape and softness over time.
But what if you still want a video monitor in addition to a wearable monitor? If you opt for a Stork system with the camera, you can monitor baby's health data and still get really high-quality video feed of your baby, including:
QHD-capable video: A shorter way of saying Quad High Definition, QHD is four times the resolution of standard 720p HD. That could mean the difference between just being able to see your baby while they sleep and and being able to clock the tempo of their snoring patterns. You can also zoom in on baby, or pan out to get a wider view with the Stork camera.
Two-way audio: Clearly talk to your baby through their monitor or soothe them back to sleep without having to leave your bed. Sounds and music: If baby needs a little extra help getting to sleep, the Stork camera has built-in white noise and lullabies (meaning you don't have to buy a sound machine, too).
Sounds and music: If baby needs a little extra help getting to sleep, the Stork camera has built-in white noise and lullabies (meaning you don't have to buy a sound machine, too).
Why You'd Want the Stork Smart Home Baby Monitoring System
There are a lot of new smart baby monitors around these days and they all track your baby's sleep patterns or health info a little differently. But Stork has the benefit of using the same technology hospitals use to monitor more than 10 million babies every year.* So if you're the kind of person who wants their new technology with a side of been around the block long enough to know what's what, Stork might be the smart monitor you're looking for.
As an added bonus, you can also grant app access to family and caregivers (and control the level of details they can view). So if two parents want to use the app, or someone is coming over to babysit and wants to keep an eye on baby, too, they can do that. Watch our full video review to see the Stork Smart Home Baby Monitoring System in action.
The Stork system is not intended for use as a medical device. * Estimate: Masimo data on file. Product varies by bundle. Learn more about QHD-capable video.
This article is sponsored by Masimo Stork. Babylist's free site, apps and emails are made possible by our sponsors. We limit our sponsored content to relevant partners that offer products and services we believe in and use ourselves.
This information is provided for educational and entertainment purposes only. We do not accept any responsibility for any liability, loss or risk, personal or otherwise, incurred as a consequence, directly or indirectly, from any information or advice contained here. Babylist may earn compensation from affiliate links in this content. Learn more about
how we write Babylist content
and
review products
, as well as the
Babylist Health Advisory Board
.
The freshest in parenting this week, delivered to your inbox