4 Things You Should Know About Tummy Time
4 Things You Should Know About Tummy Time
Video: Here's how to help make tummy time more enjoyable and how it can help prep baby for future milestones.
Babylist editors love baby gear and independently curate their favorite products to share with you. If you buy something through links on our site, Babylist may earn a commission.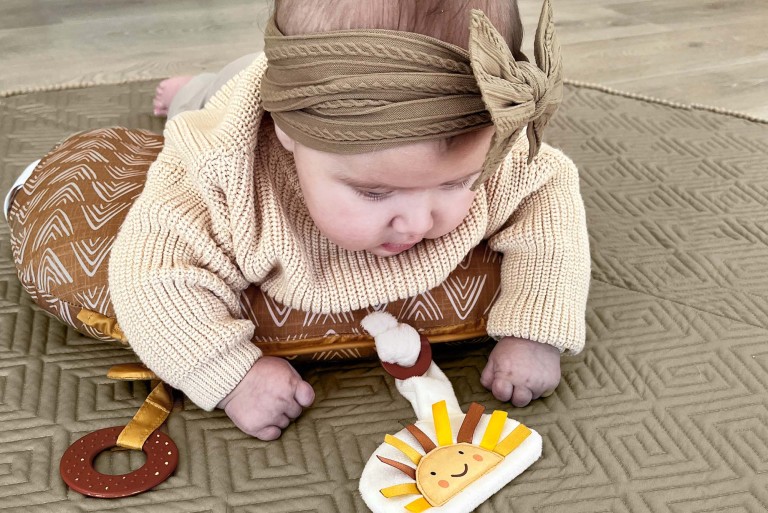 Tummy time isn't just a fun-sounding activity; it's actually pretty important for baby's development too. Because babies should only be put to sleep on their backs—and they spend a lot of time snoozing—you can think of tummy time as a chance to give their backs (and the backs of their heads) a break. When baby spends awake time on their tummy, it can help prevent flat spots from forming on the back of their heads and helps them exercise their upper body muscles, which in turn will help them reach milestones like rolling over, sitting up and crawling throughout their first year.
We partnered with Boppy—who just launched their new Play Mat—in the video above to share tips for making tummy time more enjoyable for you and baby. (And if that name sounds familiar, it's because they make one of our fave supportive nursing pillows.) In the meantime, here are a few things you might not know about tummy time.
Tip #1: Baby Can Do Tummy Time from Day 1
Unlike a lot of activities you may be excited to do with baby, like putting them in a stationary or playground swing, they can practice tummy time starting at birth. You can do it on your chest (which is also great for skin-to-skin contact!) or on a soft surface designed for play, like the textured foam play mat mentioned above.
Having a dedicated spot for baby to do tummy time that's easy to clean—ånd keep clean—can help baby feel more comfortable in this unfamiliar position. This mat folds flat, so you can store it under the crib or next to the sofa for easy storage, and set it up with just one hand (ideal if you have a baby that likes to be held!). The non-skid backing helps it stay in place, even if you're using it on hardwood or tile and it has a wipeable and removable machine washable cover for the inevitable spit-up. (Pro tip: Keep a container of baby-safe disinfectant wipes nearby!).
Tip #2: A Little Tummy Time Goes a Long Way
Baby may not like tummy time, especially at first, but that doesn't mean you should skip it altogether. A few minutes of tummy time is all it takes to make a difference (check out the video review to learn why). In fact, The American Academy of Pediatrics recommends that newborns start with 3 to 5-minute increments 2 to 3 times a day and build up to longer periods as they get older (about one hour of combined sessions by around 3 months old). The key is finding that sweet spot of time after a nap or after they've been fed and burped, and before they get so tired they start to get fussy or doze off on the mat.
Tip #3: Bring in the Toys
Tummy time is a great way to keep baby entertained and engaged while awake. Besides a comfortable surface to place baby on, you don't need any special equipment. That said, baby may enjoy tummy time more with some fun distractions. Prop up black and white contrast cards or a mirror to give baby something to look at (this helps with visual development too). As baby gets older, you can set toys slightly out of their reach to encourage them to move around and grab the toys—which will help them develop the right muscles to scoot on their bellies, roll and crawl (Watch our video at the 1:56 mark for a clever way to do this).
Another thing you can do is prop them up to make it easier to look around. For example, this cute tummy time prop pillow from Boppy is a smaller version of their support nursing pillow but is specifically designed for early tummy time use (see it in action at the 1:31 mark in our video review). It gives baby a new angle to peek and peer from and could help them avoid the grumpiness that can come from lying flat on their tummies. The pillow comes with an attached crinkle toy and teething ring, but you can swap them out with baby's personal favorites.
Tip #4: Join Baby on the Floor
What's a new parent to do if you've given baby a safe space for tummy time, propped them up, laid out the toys—and they're still less than amused? You can always call it quits and try again later, but before you do that, try giving baby their favorite form of entertainment—you! Get on the floor with baby and look into their eyes. Having one of their favorite people nearby can help them feel safe and secure and encourage them to stick it out for a little bit longer (not to mention it's a nice way to bond with baby too). Before you know it, you'll hopefully have a little one that gets excited to be placed on their tummy, and for longer stretches.
This article is sponsored by Boppy. Babylist's free site, apps and emails are made possible by our sponsors. We limit our sponsored content to relevant partners that offer products and services we believe in and use ourselves.
This information is provided for educational and entertainment purposes only. We do not accept any responsibility for any liability, loss or risk, personal or otherwise, incurred as a consequence, directly or indirectly, from any information or advice contained here. Babylist may earn compensation from affiliate links in this content. Learn more about
how we write Babylist content
and
review products
, as well as the
Babylist Health Advisory Board
.
The freshest in parenting this week, delivered to your inbox