Best Bounce Houses for Toddlers
Best Bounce Houses for Toddlers
They're easy to setup + guaranteed to make naptime happen. Here are our top picks.
Babylist editors love baby gear and independently curate their favorite products to share with you. If you buy something through links on our site, Babylist may earn a commission.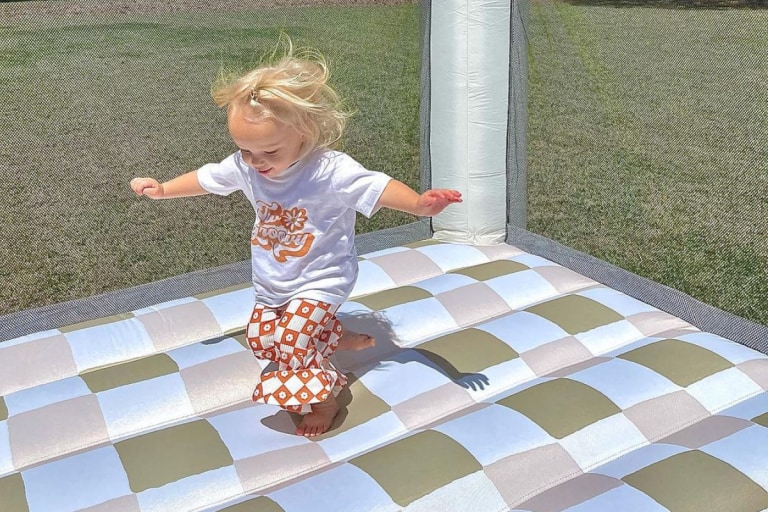 Bounce houses bring up nostalgic memories of going to a play space or attending a classmate's birthday party. But long gone are the days when kids needed an official celebration to enjoy jumping to their heart's delight. Thanks to bounce houses made specifically for at-home use, toddlers can now jump whenever they want.
Bounce houses aren't just all fun and games either—these inflatable play structures offer a multitude of gross motor benefits by providing a safe and enjoyable environment for toddlers to move their bodies and test their limits. They'll work on improving their balance, coordination, and overall physical capabilities all while having a blast.
Whether you're hosting a playdate, a dinner with friends, or just need a way for your energetic little one to get their energy out, bounce houses are great to set up for guaranteed toddler entertainment and hours of fun.
Babylist's Top Picks for the Best Toddler Bounce Houses
Best Bounce Houses for Toddlers
What to Look for When Choosing a Toddler Bounce House
When choosing a bounce house, there are a few features you'll want to consider to ensure safety and maximum fun. Here's what to look for:
Size
Bounce houses come in a few different sizes and the options for at-home use are typically smaller than the jumpers of your childhood memories. When you're choosing a bounce house, be sure there's enough room around the bounce house for the blower (if needed) and ceiling clearance.
Material
You'll also want to pay attention to the materials used in the construction of the bounce house since that's ultimately what makes them safe and durable. Opt for bounce houses made from materials such as commercial-grade PVC or heavy-duty Oxford fabric which will withstand outdoor elements and enthusiastic toddler play.
Safety
Bounce houses should also have built-in safety features—here's what to look for:
Mesh netting and reinforced stitching. Mesh netting provides a barrier to prevent toddlers from tumbling out, while reinforced stitching adds strength and durability.
Stakes and sandbags. Securing the bounce house is a crucial step when setting it up, especially when using it outdoors. Stakes firmly anchor the bounce house to the ground when outside and sandbags can be filled and used for both in- and outdoor use. Both help prevent it from tipping over during energetic play.
Certified blower. A heavy-duty blower is important since it ensures optimal inflation and stability while your toddler plays.
Bounce houses should always be set up on a flat surface and you can lay a padded mat down at the entrance so little ones will have a soft place to land when exiting. You'll also want to set some ground rules for safe play, especially when there's more than one toddler bouncing around.
The American Academy of Pediatrics (AAP) doesn't have specific guidelines for toddler bounce house use but they do for regular trampolines. Here are a few more safety precautions you can take to help ensure your toddler bounces safely: - Parental supervision at all times - Be mindful of capacity and weight limits - Always remove your toddler's shoes, glasses and any accessories (like jewelry or hair clips)
Bonus Features
Some bounce houses come with basketball hoops, obstacle courses, inflatable slides or splash pools which add another level of fun and excitement to your toddler's playtime.
This information is provided for educational and entertainment purposes only. We do not accept any responsibility for any liability, loss or risk, personal or otherwise, incurred as a consequence, directly or indirectly, from any information or advice contained here. Babylist may earn compensation from affiliate links in this content. Learn more about
how we write Babylist content
and
review products
, as well as the
Babylist Health Advisory Board
.
The freshest in parenting this week, delivered to your inbox