How to Use Your Babylist Registry as a Birthday Wishlist
How to Use Your Babylist Registry as a Birthday Wishlist
No matter what your kiddo wants for their birthday, using Babylist for a birthday wishlist is super easy!
Babylist editors love baby gear and independently curate their favorite products to share with you. If you buy something through links on our site, Babylist may earn a commission.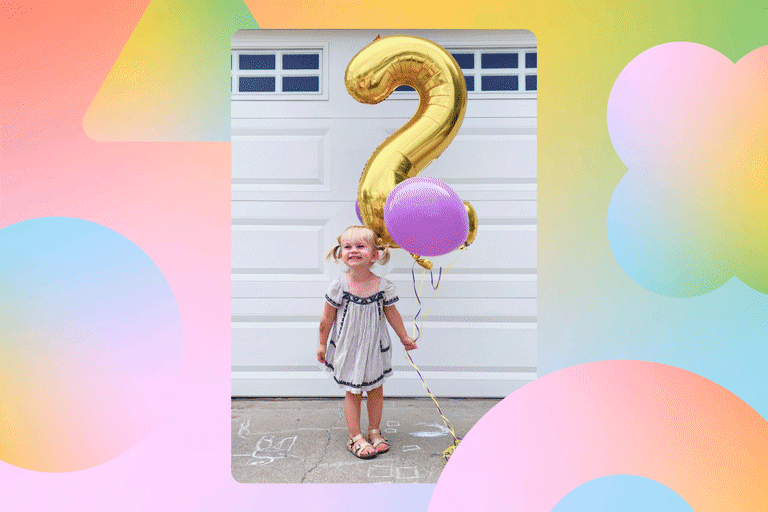 Whether it's their first, their third or their thirteenth, birthdays always come with one major thing: gifts. From toys and clothes to experiences and cash funds, keeping your child's birthday wishlist all in one organized place helps you keep track of everything they're asking for (and can help ensure they get what they really want and need).
Just like a baby registry, a birthday wishlist for your kiddo can help guide family and friends toward the things you want your little one to have. And the good news is that if you already have a registry on Babylist, you don't have to start your birthday list from scratch somewhere else. You can build a wishlist just like you'd build a registry, but instead of baby prep items, you're adding fun stuff like toys and experiences for the stage your child is at currently.
Here's everything to know about using your Babylist registry as a birthday wishlist, plus some ideas for what to wish for.
In This Article
How to use Babylist for your birthday wishlist
You've had your baby, and you've moved on from your baby registry, but don't feel like you have to abandon the platform you know and love if there are more gifts you'd like to ask for. Babylist works just as well for birthdays as it does for baby registries!
It's super simple to create a separate, from-scratch wishlist using Babylist:
Log in to your Babylist account.
Go to https://www.babylist.com/registry/build and click on the "Birthday" box. You can also click on your profile name on the top right and select "New Birthday Wishlist" from the dropdown menu.
Enter your child's name and birth date. Telling us how old they're turning lets us show you the top products for their age right on your Babylist app feed (just in case you need gift ideas).
Give a few extra details, all the information that friends and family will need to buy gifts for your kiddo, including clothing and shoe sizes, favorite things, what they need and what they don't need.
Add a photo and a greeting message if you want, and your wishlist is ready to go!
Still have that Add to Babylist browser button? It works just the same as with your original registry. Add any item to your wishlist from anywhere on the internet with just a couple of clicks.
And of course the Babylist app still works perfectly for birthdays, and so do the product guides, making it easy to add lots of stuff to your wishlist (including extra special gifts for baby's first birthday).
Keep in mind: If you have multiple children, you'll need to create separate wishlists for each child once their birthday rolls around. To switch back and forth between multiple wishlists or registries, just click on your profile name in the upper right corner. From the drop-down list, click on "Switch Registry" and you'll see all the registries and wishlists you've made on that account.
Repurposing your old Babylist registry
Don't want to start from scratch? You can easily repurpose your existing Babylist baby registry into a birthday wishlist. Just be sure to remove any information about your due date and baby shower, since it's no longer a baby registry.
And if you still have items on your baby registry that were never purchased, that's even less work for you to do—if you still want those things, leave them on your new wishlist. But if there are registry items on there that you don't want anymore, you'll have to manually delete them.
Why make a birthday wishlist?
We get it, you may be thinking that it's just another thing to add to your birthday planning to-do list. But making a wishlist for your little one's birthday gifts can make things easier on both you and your family and friends who want to buy gifts for your child. A wishlist enables you (and kiddo) to get what you want so you can avoid gifts that end up as clutter. It also answers a question you'll inevitably get over and over: "What should we get them for their birthday?"
If you had a Babylist baby registry when you were expecting, you probably already understand the perks of having a list of your must-have and most-wanted items readily available online. An online birthday wishlist has the same perks:
Easy to curate
Easy to organize by category
Include direct links to specific items
Easily include correct size and color info
Easy to share (you can even share on social media or via text)
Reduce the risk of doubling up on gifts since purchased gifts are automatically removed from the list
Have the option to see what's been purchased (and who bought it)
Provide buying options so gift givers can choose their preferred store (Note: not every wishlist website has this perk, but Babylist does!)
What should you put on your child's wishlist?
If you're not sure what you need or where to start, or if you're feeling like the list of things is never ending (understandable; kids and babies seem to need a lot of stuff), we can make the process feel more manageable with our suggestions for what to include and how to organize your list.
Gift ideas for your birthday wishlist
You're obviously not limited to these options; put anything you want onto their wishlist! But these are the most popular wishlist items that family and friends love to give:
The number of items on your list will be determined by a few factors, including the amount of space you have for new things in your home, the number of loved ones you anticipate getting gifts for your little one and how many you think they might give, any budget/gift price agreements you may have made with loved ones (assuming they actually stick to that agreement—if you have a family member who likes to go overboard every year despite being given a spending limit, narrowing your list by cost can help keep them in check) and whether you prefer a more minimalist approach to birthday gifts.
As you start gathering ideas for your kiddo's wishlist, here are a couple more things to consider:
Start by adding everything they want/everything that catches your eye, then pare down the items based on what they really want.
Don't expect to receive everything on the list. It would be amazing if your little one did get everything they asked for, but keep in mind that the longer the wishlist is, the less likely they are to get everything on it.
Gift Cards
Still stumped? Want to keep things simple and streamlined? Gift cards make an excellent birthday gift, especially for babies:
Babies grow quickly and always seem to need new things—especially clothes—and gift cards can be saved until your baby's next growth spurt (AKA shopping spree).
Babies are expensive! Gift cards can contribute toward larger purchases or take care of everyday essentials (like all those diapers and wipes).
Let's face it: you're busy. Gift cards allow you to conveniently get whatever you need right when your baby needs it instead of waiting for a gifting occasion.
How to organize a birthday wishlist
Using Babylist for your child's birthday wishlist means you have the ability to organize items into categories, which can make the curation process feel so much more streamlined. Specific categories can also help your friends and family as they're going through the list and deciding what to get. There are a few ways to organize a wish list, and you can choose the one that works best for you:
By general category:
By minimalist category:
Want (toys or fun extra gear)
Need (stage-based items or bigger gear you may be missing)
Wear (clothes and accessories)
Read (books!)
By price range:
(Totally customizable based on any budget you've set; this is just an example of ranges that can help others decide what gifts to give):
< $25
$25–$50
$50–$75
$75–$100
$100+
Ready to get baby's wishlist started
It's easy to transform your Babylist registry into a birthday wishlist for your child.
Don't have a Babylist account yet? Click here to get started from scratch!
This information is provided for educational and entertainment purposes only. We do not accept any responsibility for any liability, loss or risk, personal or otherwise, incurred as a consequence, directly or indirectly, from any information or advice contained here. Babylist may earn compensation from affiliate links in this content. Learn more about
how we write Babylist content
and
review products
, as well as the
Babylist Health Advisory Board
.
The freshest in parenting this week, delivered to your inbox