How to Throw a First Birthday Party
How to Throw a First Birthday Party
Ideas and tips for celebrating this exciting milestone.
Babylist editors love baby gear and independently curate their favorite products to share with you. If you buy something through links on our site, Babylist may earn a commission.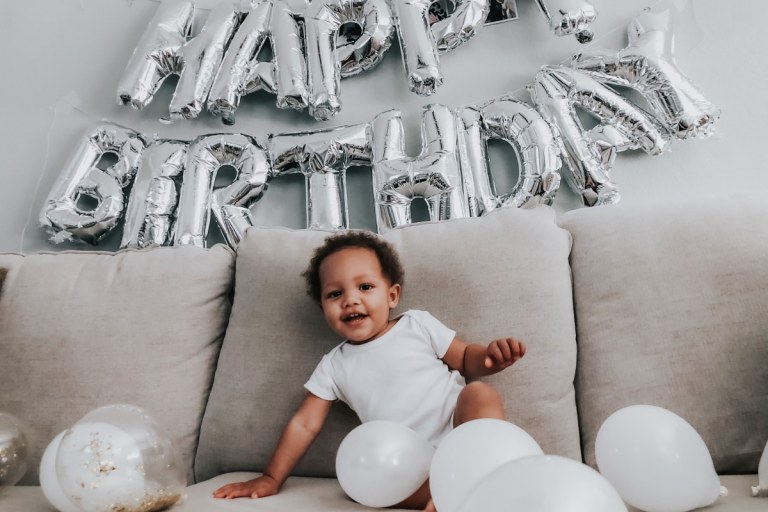 Congratulations! Your baby is turning one, which means you've almost made it through your first year of being a parent. While they won't remember their first birthday, you certainly will, and it's a great time to celebrate all that both you and your baby have accomplished.
Between the decor and cake, planning your baby's first birthday party can feel just as exciting as planning your baby shower. But you certainly don't need to go all out—hanging a few decorations and getting a little birthday cake just for your baby go a long way and provide a ton of cute photo opportunities for memory books.
In this article:
How to Throw a First Birthday Party
If you plan on throwing a first birthday party, we've got you covered. For the when, where and how to all of the fun details, here's what to know.
When
Most parents choose to celebrate their baby's first birthday either the week before, the week of or the week after baby's special day. It mostly depends which day of the week their birthday falls on. You'll want to send out invites at least four weeks in advance.
Where
When considering where to host the festivities, think about how many guests you'll be inviting. Having a party at home, whether inside or in your backyard, is often the easiest route. Baby will be in their own space, which is great for loosely sticking to their regular routine. Plus you'll save some money.
If you're planning to host a larger crowd, a park with a playground also makes for a great party venue. Renting out a hall or event space is another idea.
Who to Invite
Next you'll want to figure out who you want to invite. Also think about how many people you're up for hosting. This of course depends on personal preferences, and everyone's village is unique. Do you want an intimate gathering, or do you envision a huge birthday bash? When making your list, start with your closest friends and family (like grandparents, aunts, uncles and cousins). Then consider any daycare and playgroup mates, plus coworkers you're friendly with. Keep in mind: more guests means more food, drinks, seating and favors, so this is where a little budgeting can help you decide.
First Birthday Party Invitations
While you can buy basic invitations from the store (like Target or Walmart), a lot of people go the custom route for baby's first birthday invites.
Here are a few websites you can order custom party invitations:
Sending e-invitations is another option. It's quick, convenient and often more affordable than paper invitations (most are actually free!). And an added bonus—most sites allow you to track RSVPs and link a birthday wishlist registry.
And a few popular e-invitation sites are:
First Birthday Gift Wishlist
And speaking of linking to a birthday wishlist (a somewhat controversial topic), you might be wondering, is it even polite to create a wishlist? We say yes! And here's why.
It's not uncommon for friends and family to ask what your toddler wants for their birthday.
Although a wishlist can feel uncomfortable or "gift grabby" to some, creating one is a great way to let your guests know what your little one needs and what they're currently interested in.
Wishlists are also helpful for encouraging mindful gifting and cutting down on receiving toys that your little one won't play with or doesn't need (that may possibly be later donated or tossed out).
It'll save your guests time since they won't have to wonder what to pick out.
If you're not sure how to share your toddler's birthday wishlist, here are a few sample scripts and ideas that can help:
Include your wishlist link on your invitation or evite.
People will likely ask you for gift ideas, which is the perfect opportunity to direct them to the wishlist.
"We're so excited to celebrate with you! If you'd like to bring a gift, we've created a wishlist of Olivia's favorite things."
"Your love and support are more than enough, but if you'd like to bring a gift, you can find Alejandro's birthday wishlist at (add in your wishlist link!)."
"Your presence while we celebrate Tatum turning one is truly the best gift, but if you'd like to bring a little something extra, we put together a wishlist of things he's had his eye on."
"Though your presence is the best gift of all, if you're wondering what to get Luna, we've created a wishlist with ideas. "
First Birthday Party Themes
So you've got the who, when and where sorted out. Now to the exciting part! Choosing a theme and coordinating decor is the best part of party planning—and there are tons of fun themes that are perfect when you're turning one.
Here are a few creative first birthday party theme ideas:
First trip around the sun
One happy baby
One-derful or One-derland
Winter Onederland (great for winter babies)
Wild one
Admit One (movie/theater theme)
One small step for baby (space theme)
First Bee Day
One is Fun
Hole in One
[Baby's Name] is a Cool One
One Happy Camper
If baby has a favorite book or toy, you can also use that as the party theme. And if you loved your baby shower theme, tying in that theme for baby's first birthday is a really sweet touch.
First Birthday Party Decor
There are a ton of meaningful ways to celebrate baby's first year when decorating. Here are some decor ideas we love.
"One Year of Baby" photos. You worked so hard on your baby's monthly photos, so now's your chance to display them! Whether in a frame, on a custom "One Year of" wooden board, strung up on a banner, as table centerpieces or just posted around the party.
Balloon arch. A fun way to bring together your party decor, balloon arches also serve as the perfect photo backdrop. Prop your baby's high chair in front of the arch when it's time to sing "Happy Birthday."
High chair decor. And speaking of high chairs, decorating it with a tassel garland or "ONE" banner is a special detail that adds to the festivities.
Giant number one balloon. A must have for any first birthday party, a giant mylar number one balloon is both cute and a great photo prop.
Cake topper. Although your dedicated smash cake typically won't have much decor, you'll be able to decorate the larger cake for your guests with a cute cake topper. And if you're serving cupcakes, we love these custom baby face toppers with pom pom hats.
First birthday party hat. Whether it's a traditional cone hat or sparkly #1 crown, party hats sure make for great photos.
Some of our favorite places to shop for party decor are:
What Food to Serve at a First Birthday Party
When deciding what food to serve at your party, think about the guest list. Will there be mostly adults? Or a bunch of little ones? For babies and young children, kid-friendly finger foods are sure to be a hit. We recommend things like mini sandwiches, chicken fingers, sliders and fries, mini grilled cheeses and of course a bunch of fresh fruit. Smoothies and yogurt pouches are also a great idea for younger guests.
Adults will enjoy much of the same food. If there will be more grown ups in attendance than children, consider a charcuterie board or veggie platter. A "build your own" bar is also a fun idea. It works great for serving food like bagels and cream cheese, pancakes and waffles and yogurt parfaits. You also can't go wrong with a taco bar.
Although it's typically more expensive, catering can significantly cut down on your to-do list. And if you want to keep it really simple, you can't go wrong ordering a couple of pizzas from your favorite pizza place.
Party Games and Activities
You don't have to prepare a bunch of activities ahead of time, especially if you're hosting the party at a park or kids' venue. Babies and toddlers will be more than happy to play alongside each other or explore your backyard while the adults mingle nearby. But if you'd like to provide a couple of activities, here are some ideas:
Bubbles. Always a hit with toddlers, get an automatic bubble machine or have adults take turns blowing bubbles for little party goers to chase.
Dance party. Log into your Apple Music or Spotify account, turn on some toddler tunes and have a dance party.
Sensory art table. Set up an arts and crafts table with finger or foam paints (and a couple of smocks to protect clothing).
Sand & water table. You can also set up a sensory activity (that matches the party theme) in your little one's sand or water table.
Free play area. Bring out a playmat or picnic blanket and a few toys (such as blocks and balls, or a Nugget couch and Pikler triangle if you have them) for little guests to enjoy.
Bounce house or ball pit. There are a bunch of companies out there that rent out bounce houses, ball pits and foam play equipment for parties (like Poppytots, which is based in the Bay Area). Be sure to check Google for something local to you! You can also buy your own mini bounce house like this one from Little Tikes—bonus: they also make great first birthday gifts!
Birthday guest book. In lieu of cards (which can be hard to part with and take up space to save), have adult guests sign a special book with sweet birthday messages for your baby. You can also have them sign a picture book. We love Oh The Places You'll Go by Dr. Seuss, When's My Birthday by Julie Fogliano and Eat the Cake by M.H. Clark.
Party Favors
Say thank you and send guests off with party favors that tie in your party theme. You can order custom tags and treat bags (from many of the same invitation and decor sites) to give out stuff like:
Custom cookies or sweets
Bubbles
Crayons with a little drawing pad
Toddler sunglasses
Playdough
Hot Wheels
There are a ton of places to buy favors—Etsy and Amazon are great places to start.
When planning your baby's first birthday, the options are truly endless. Use your imagination, flex your creativity and, most importantly, have fun with it! The celebration is for you as much as it is for them.
This information is provided for educational and entertainment purposes only. We do not accept any responsibility for any liability, loss or risk, personal or otherwise, incurred as a consequence, directly or indirectly, from any information or advice contained here. Babylist may earn compensation from affiliate links in this content. Learn more about
how we write Babylist content
and
review products
, as well as the
Babylist Health Advisory Board
.
The freshest in parenting this week, delivered to your inbox