How to Plan a Disney Vacation with a Baby
How to Plan a Disney Vacation with a Baby
Disney parks can provide a magical experience for the whole family, tiny babies included.
Babylist editors love baby gear and independently curate their favorite products to share with you. If you buy something through links on our site, Babylist may earn a commission.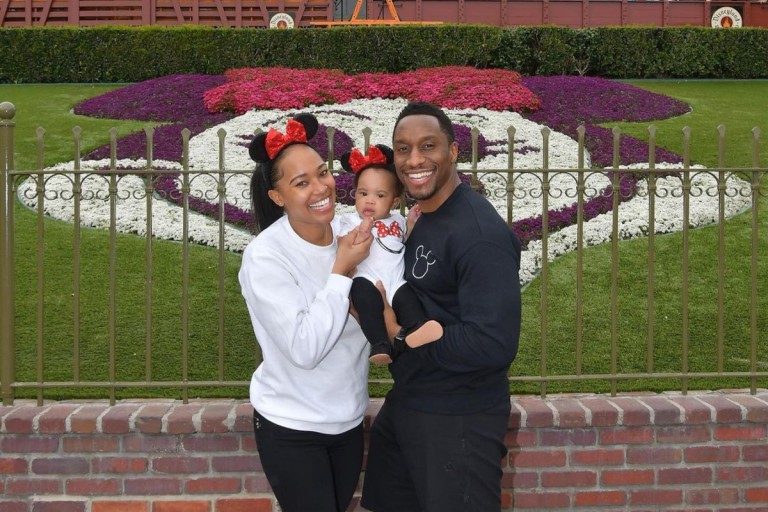 Whether you're eight weeks old or eight decades old (or more—or less!), the Disney parks have always been full of magic. And while it may seem daunting and potentially un-magical to take your baby or toddler on a Disney vacation, rest assured that a little planning and preparation can make it an enchanting and unforgettable experience for the entire family.
From character encounters and gentle rides to baby care centers, Disney parks offer a level of joy and hospitality that's sure to make your little one's first visit a truly magical one.
When to take a Disney vacation with a baby or toddler
Is my baby too young for a Disney trip?
If you have a baby and you're considering a trip to any of the Disney theme parks, this might be one of your first questions. Unless your little one has significant health concerns that might be made worse by overexertion or crowds, then the answer is a pretty confident "no." Even if you have a one-month-old, they'll still be just as welcome as the rest of your family since the Disney parks are so accommodating to families with babies.
In fact, it's worth considering that children two years old and younger get into Disney parks for free, so if you were thinking about putting off that Disney vacation until your toddler's third birthday, consider the cost benefit of going sooner.
While it's true that babies and toddlers can't enjoy every Disney ride, there are still plenty of attractions to keep them entertained for multiple days at one park. With colors, music and people all around, even the youngest babies can have a magical sensory experience on a Disney vacation.
The best time of year to visit Disney parks
No matter the age of your little one, the main thing to consider in planning your Disney park adventure is the time of year. Visiting the park during the "off seasons", which are usually September, early November and mid-January through late February, can help minimize crowds and wait times—and that means minimized fussiness (for both little ones and adults). 
If you can't plan your trip around those months, then your next best bet is to go on weekdays, especially Tuesday through Thursday. And definitely try to avoid holiday weekends, as those tend to be the most crowded.
How long to stay
The length of your Disney vacation really depends on your own comfort and energy level. It can be really rewarding to try and make the most out of your trip, but it can also be completely exhausting. Many families with young babies or toddlers keep their Disney trips to about one to two days per park. So if you're going to Disneyland and California Adventure, three days is a good amount of time. If you're going to Disney World, consider four days total (and maybe skip one or two of the parks if you want to spend more time in Magic Kingdom).
It's worth noting also that the longer your vacation is, the more likely it is that any established feeding and sleeping routine will get thrown out of whack.
What to bring to Disney with a baby or toddler
How smoothly your day goes at the park will greatly depend on how prepared you are. While it's important to pack all the essentials, it's equally as important to not over-pack, since you'll be lugging your stuff around all day. You can rent a locker at the park, but you'll find it way more convenient (and cheaper) to just keep all your baby-related stuff on hand. 
Diaper Bag
You'll want to take a diaper bag that hits the sweet spot between "big enough to fit all your daytime baby essentials" and "small enough to fit in the stroller basket or to carry around." Here are some of our favorites:
What's more important though is what goes inside the diaper bag. Here's a packing list for a full day at a Disney theme park:
Diapers or training pants
Extra full set of baby clothes
Outerwear layers (in cold weather)
Water (no glass containers, but baby bottles are an exception)
Bottles (with breastmilk if you pump, and glass bottles are okay)
Small soft-sided cooler and ice packs to store breastmilk
Pre-portioned formula (if you're formula feeding)
Nursing cover (if you're breastfeeding)
Baby food (if you're feeding solids, and glass baby food jars are okay)
Snacks (for the whole family; Disney food can get expensive)
Pacifiers and pacifier clips
Don't bother with things like toys, pacifier sanitizers or bottle cleaning supplies in the park. Toys are likely to get lost, and anything that gets dirty can be cleaned either in the Baby Care Center (more on that later) or back at your hotel.
Strollers
A stroller may be the number one thing to bring with you into a Disney park. While Disney does have a stroller rental service, they're not a great fit for babies and younger toddlers—the Disney strollers are hard plastic, don't provide any support and are generally uncomfortable after long periods of sitting.
If you can, you'll be much better off bringing your own stroller or renting one from a local baby gear rental company. And don't hesitate to bring a full-size stroller or large travel stroller; Disney allows a pretty wide range of stroller sizes, and it's guaranteed to be more comfortable for your little one (and a larger basket means more space to stash all your souvenirs).
To make sure your stroller is allowed inside the park, here are Disney's guidelines (applicable to all US Disney parks):
Strollers must be 31" (79cm) wide and 52" (132cm) long or smaller.
Wagons and stroller wagons are not permitted.
Additionally, while stroller boards/riding boards used to be prohibited in Disney parks, they're now allowed as of 2023! This is especially good news for families with multiple children and older toddlers who don't want to be confined to the stroller seat all day.
Here are some of our favorite strollers to make for a comfortable day at Disney:
Carriers
A baby carrier isn't an absolute necessity for taking your baby to a Disney park, but it's a huge help for keeping wiggly babies close by while standing in line and ensuring little ones stay safe and secure on rides. Strollers aren't allowed in line for attractions, and some rides might require babies and young toddlers to sit on an adult's lap for safety. So it's better to bring your carrier and potentially not use it than to leave it at home and wish you had it.
Here are a few of the best carriers for spending a whole day at a theme park:
Tips for planning your day at a Disney park
Whether you're at Disneyland, Disney World or any of the other Disney theme parks across the globe, all of these tips can help your day run a little smoother with a baby or toddler in tow.
Familiarize yourself with the park's attractions
Before you head out to the park, it's a good idea to know what you're getting into. All of the Disney parks have a lot of attractions, and not just rides, either! Check out the Disney park website and app to get all the necessary information on character meet-and-greets, parades and shows, dining options, ride closures, ride height restrictions and special accommodations for families. 
Knowing what all is available beforehand will help you make a personalized itinerary that suits your whole families interests and needs.
Try to stick to baby's schedule
Try to keep your normal feeding and nap schedule as much as possible, but don't be surprised (and try not to stress out) if it all goes out the window. With the level of convenience and hospitality that the Disney parks offer, it's not difficult to find spots to sit and eat or even have your kiddo take a nap at their regular time.
The wildcard here is timing everything with all the lines. So if it's 20 minutes until nap time, you might want to rethink jumping into the 30-minute line for Pirates of the Caribbean. With that in mind, don't be surprised if your family gets at least a little bit off schedule.
If your little one has a bedtime routine, that's likely to be the first thing out the window, especially if you plan to see any nighttime parades.
Download the park's app 
A major part of planning a day at Disney, especially when you have a baby's schedule to take into account, is keeping on top of wait times for rides, character encounters and restaurants. Don't get trapped in a 50-minute line with a starving toddler; knowing ahead of time which attractions have short lines, can be hit back-to-back or timed with meals and naps can make your whole day run like a well-oiled machine.
Another perk of the park app is ordering food ahead; you're already going to be standing in a lot of lines for rides, so don't get stuck in a food line too. Schedule your food pickup for the same time as kiddo's regular meal time.
Don't eat during regular mealtimes
This may sound contradictory, especially after the tip to stick to your baby's normal schedule. While schedules are important to keep kiddo as happy as possible, if you can move their meals by even just 30 minutes outside of a "typical" eating time (like 12 p.m. for lunch), you'll end up in much smaller lines at Disney eateries.
If you can't move baby's eating schedule, then at least consider moving your own. Scheduling the adult meals at 11 a.m. for lunch or 4 p.m. for dinner can go a long way in saving you time during your day at the park.
Take breaks at the hotel
Especially with a toddler, returning to the hotel for nap time can be the perfect reset everyone needs. Take an hour or two to rest your (undoubtedly aching) feet, restock on diapers, bottles and snacks and maybe even take a nap yourself. Even if you feel like you still have the energy to push through—and it can be tempting to hit up some of the non-kid-friendly rides—it's better to rest as much as possible than to risk having a cranky adult later in the day.
If you're just doing a day trip to the park and don't have a hotel booked, then make sure you've brought a stroller that accommodates a sleeping child (either with a reclining seat or a bassinet attachment), and be sure to snag one of the many good resting spots for yourself, too.
Use the "Rider Switch" for bigger rides
While it's important to keep your little one's needs in mind during your Disney adventure, the adults and older kids should be able to have their fun too! If you're with another adult and can switch off watching the baby, you can take advantage of Disney's "Rider Switch" perk to swap out parents without having to wait in line multiple times. Here's how it works:
At least one adult waits with any non-riders (kiddos who don't meet the height requirement, may experience adverse effects on the ride or just don't want to go) at the ride exit.
The other group members, including other children who do meet the height requirement, wait in the regular ride line.
Once the riding group returns, the adult who waited can then go on the ride while the previous riders hang out with the non-riders. They don't even have to wait in the regular line—they're given special permission to move right on through to be boarded immediately!
Be a "single rider"
If only one adult wants to ride something, you can take advantage of Disney's "single rider" line.
Though it's not available for every ride, most of the bigger Disney rides offer a separate line for individual riders to fill in any gaps left by varying group sizes. Using the single rider line doesn't guarantee that you'll get on the ride immediately, but it does move significantly faster than the regular line.
Do early entry if possible
If you're staying at a Disney Resort Hotel, you can take advantage of early entry. Previously known as Magic Mornings and Extra Magic Hour, this early entry perk allows Disney hotel guests to enter the park before the general public—a huge bonus to hit the most popular rides before the crowds arrive and keep your little one from having to stand in even more lines. Participating parks include all four of Disney World's parks, Disneyland and Disneyland Paris.
Keep in mind: Early entry is only available for guests of official Disney hotels, not "friendly neighbor" hotels (hotels near the park that may offer other perks). While Disney hotels are typically more expensive than nearby options, they come with a much more immersive experience and numerous perks, including character meals.
Best rides for babies and toddlers
Disney parks have no shortage of attractions tailored to little ones—even babies can get the most out of what Disney has to offer. The classic gentle rides like "it's a small world," Dumbo and Peter Pan are perfect for introducing new theme park adventurers to the magic of Disney. Be sure to check at each ride entrance or on the park's website or app for any rider restrictions.
Older toddlers may even be able to try out some of the bigger rides like Pirates of the Caribbean (which has a couple of small yet exciting drops!), but keep in mind that reaching the minimum height requirement doesn't necessarily mean they're ready. Use your best judgement to determine whether your child is ready for attractions that include drops, darkness, speed or scary scenes (looking at you, Snow White's Scary Adventures—which thankfully no longer exists).
Along with rides, your little one can also watch parades and live shows and even meet some of their favorite Disney characters. While it's unlikely that any children under the age of three will remember the experience as they get older, it creates lasting memories for you as well as highly photographable moments to show them for years to come.
Baby Care Centers 
Whether you're there for just a few hours or you're in for several long-haul days, Disney's Baby Care Centers are a true lifesaver for families with babies and toddlers. Located in every Disney park, these facilities provide a dedicated space for everything you could possibly need to care for your little one, including:
Changing stations. Ever try changing a blow out in the middle of a busy theme park? Don't. The Baby Care Centers include padded changing tables, sanitizing wipes, tiny toilets for potty training toddlers and, most of all, a private, quiet place to keep little ones from getting overstimulated while getting a diaper change. Some centers even have free diapering supplies just in case you run out!
Feeding and nursing areas. Whether you're breastfeeding, bottle feeding or giving solid food, Baby Care Centers have a spot for you. The private nursing area is peaceful with comfortable arm chairs, and the kitchen area has high chairs solid food eaters.
Kitchen and food prep areas. Speaking of feeding, these facilities have full kitchens. A sink to wash your bottles or pumping supplies? Check. Bottle warmers to reheat breastmilk? Check. Microwaves to heat baby food? Check. Everything you need to make sure your little one gets fed.
Play areas and activities. The Baby Care Centers aren't just for changing and feeding. Sometimes the parks are just too overstimulating, and kiddos need a calm place to regroup. The play areas in these centers usually include toddler-sized tables and chairs, books, coloring supplies and a TV (playing Disney movies, of course).
Supplies. Forgot to bring sunscreen? Lost all of baby's pacifiers? Or maybe you just really need some Advil. Not to worry, Baby Care Centers have just about everything you might need when visiting with little ones. From formula and baby food to diapers and wipes, you can find baby care necessities for purchase.
Along with all of the practical baby care necessities, these centers also offer the simple pleasure of good hospitality. The staff are welcoming and accommodating, the chairs are comfortable, the space is quiet and, on a hot day, the air conditioning is on!
---
Taking your baby or toddler to a Disney park can be an incredible experience filled with joy and wonder. By planning ahead, knowing which attractions are age-appropriate and understanding all of the accommodations available to you, your family can create an adventure that maximizes the magic and limits the stress. From the excitement of meeting favorite characters to the enchantment of rides and shows, Disney parks offer a world of fun and entertainment that can be enjoyed by even the youngest family members. So pack your bags, put on your mouse ears and experience the magic!
This information is provided for educational and entertainment purposes only. We do not accept any responsibility for any liability, loss or risk, personal or otherwise, incurred as a consequence, directly or indirectly, from any information or advice contained here. Babylist may earn compensation from affiliate links in this content. Learn more about
how we write Babylist content
and
review products
, as well as the
Babylist Health Advisory Board
.
The freshest in parenting this week, delivered to your inbox