First Look: The First Ever Self-Warming Baby Bottle by Ember
First Look: The First Ever Self-Warming Baby Bottle by Ember
Babylist editors love baby gear and independently curate their favorite products to share with you. If you buy something through links on our site, Babylist may earn a commission.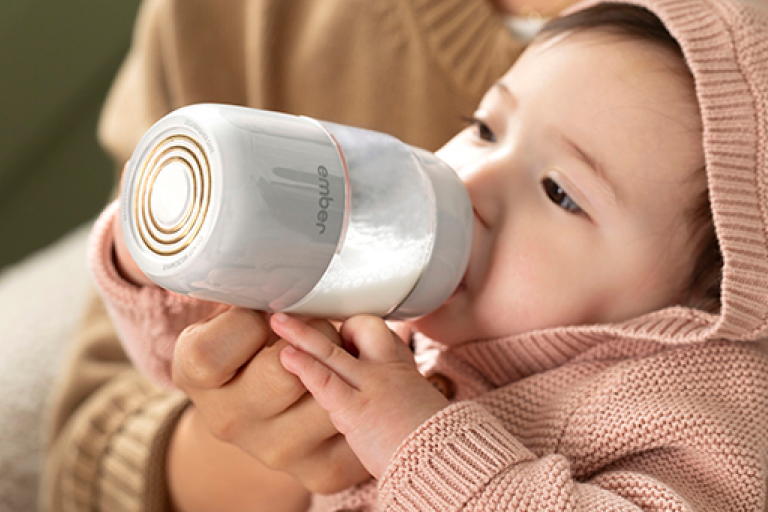 You know how you make that perfect cup of coffee, take a sip, and then put it down to go do something else? By the time you're back to it, it's cold. The Ember Mug solved that problem, by making a customizable, precision-temperature controlled mug. Now, they've applied that same genius to baby bottles. The Ember Baby Bottle System is the first-ever baby bottle that heats itself—no water baths needed. It's designed to heat milk or formula to the perfect temperature directly in your baby's bottle. See it in action with real mom Kayla in the video above!
What The Ember Baby Bottle System Does
No more water baths, no more separate gadgets, no more needing to test the milk on your wrist. You put the bottle on the smart warming puck (which is about the size of a hockey puck), and it warms up your baby's milk to super-precise body temperature in five minutes.
But, the best part is that the warming puck holds up to two full warming cycles on a single charge, so you can put milk in your bottle, leave the house, and warm it on the go.
The system also includes an insulated thermal dome that slips right over the bottle and puck to keep milk or formula cool and protected, at home or on the go, for up to 4 hours. It's all sized perfectly to put in your diaper bag so it's ready when you are; or leave on your bedside nightstand in preparation for that midnight feeding. This eliminates the need for a milk cooler on a two-hour road trip or stressing about feeding a picky baby when you're out running errands.
What's in the box?
In the box you'll find two six-ounce dishwasher-safe bottles, the smart warming puck, the insulated thermal dome, and anti-colic nipples with levels one through three for multiple age ranges for each bottle. What if your baby is devoted to their favorite nipples, like Dr. Brown's Wide Neck or Philips Avent Natural? The set also comes with nipple adaptors, so you can keep using baby's favorites.
Why You'd Want That
Warming a baby's bottle is pretty straight forward…until you're trying to do it out of the house. Or trying to figure out exactly how hot you need to get the water to make a steam bath to heat up a bottle. And forget about what happens if you want to take milk on the road for a few hours and keep it cool, but can't find the cooler. This bottle solves all of those problems.
At $399.95, the Ember Baby Bottle System is not a budget baby item, but if you plan to bottle feed and are the kind of parent who's into the latest tech—it's a super cool use of precision temperature control.
We roughly calculated that if you use the Ember Baby Bottle System for about six bottles a day, it comes out to about $1.11 a day or about $33 a month. And a dollar a day for the ease of safely heating up a bottle even when you're on the go, could be well worth it.
Just like the original Ember mug, the baby bottle system is beautifully designed. Knowing you're always going to get the perfect temperature of your baby's bottle—conveniently and safely, gives you some time back to focus on other things—like drinking your coffee before it gets cold.
This article is sponsored by Ember. Babylist's free site, apps and emails are made possible by our sponsors. We limit our sponsored content to relevant partners that offer products and services we believe in and use ourselves.
This information is provided for educational and entertainment purposes only. We do not accept any responsibility for any liability, loss or risk, personal or otherwise, incurred as a consequence, directly or indirectly, from any information or advice contained here. Babylist may earn compensation from affiliate links in this content. Learn more about
how we write Babylist content
and the
Babylist Health Advisory Board
.
The freshest in parenting this week, delivered to your inbox