How Many Clothes Do I Need?
Last Updated: May 1, 2016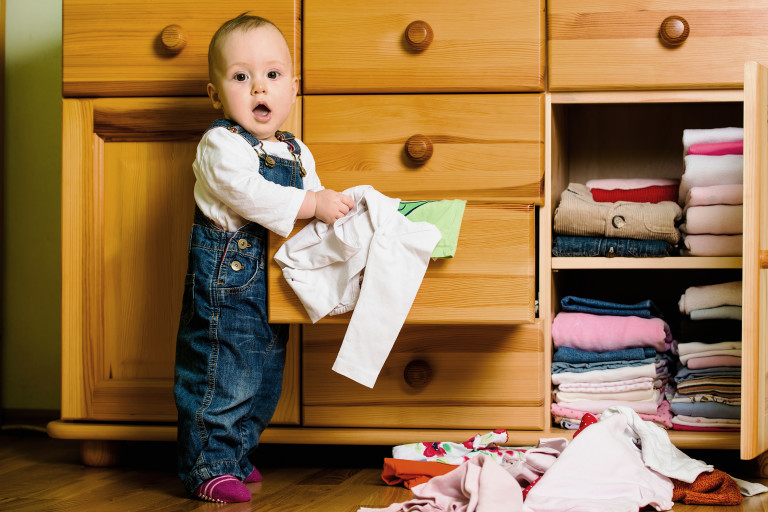 Is it possible to have too many baby clothes? Well, considering how fast your child will grow, he or she won't fit into specific sizes for very long. But it's also true that having many clothing options for quick outfit changes can be handy (hello, spit up!).
It's a fine balance. You don't want to overspend on too many pieces that will only be worn for a short period of time. But then again, baby clothes are also fun and adorable, and many people are excited to buy them for you. How many baby clothes do you really need? We've already compliled the Best Baby Clothes of 2016. Now here's our breakdown for the standard number of clothing items you'll need for your newborn's wardrobe (also known as a layette) in six easy steps.
1. The Basics
7 Onesies or Rompers
2 Hats
5 Pairs of Socks
4 Sleepers or Gowns
2. Expecting a Winter Baby?
Make sure to add…
2 More Pairs of Socks
Not necessary for newborns, but great for extra warmth.
4 Pants
Fleece or thick cotton are good choices. Opt for stretchy waists and soft material for easy everyday use.
2 Sweaters
1 Winter Coat or Bunting Sack
2 Slippers or Shoes
3. Expecting a Summer Baby?
Make sure to add…
1 Sun Hat
1 Lightweight Blanket
The best way to protect your baby from the sun is with shade, not sunscreen, and the simplest way to do that without overheating baby is with a light cotton or muslin blanket. Drape it over baby in their stroller or carrier to keep skin covered.
4. Laundry?
If you can only wash once a week, multiply all the numbers included here BY TWO.
If you plan to wash every day, cut those numbers in half.
5. Special Outfits
With a brand new baby, you'll probably have at least a few occasions to dress up or take some adorable photos. It's a good idea to have at least two nice outfits for your little one that way if something happens to one of them at the last minute, you'll automatically have a backup.
6. Add Your Favorite Items
Maybe you love baby legwarmers for extra warmth or cute bibs that also help with cleanup. Make space to add at least one or two pieces that might not be absolutely necessary, but are fun and fit your style.
---
Choosing What's Right for You
These cover our general expectations for how many clothes your baby will actually need. But depending on your lifestyle, budget, and aesthetic, these numbers may vary for you. Think ahead about any additional considerations (like climate and special occasions) that might apply to you. Then be sure to register for at least your minimum number of clothes so that enough items will be on hand when your baby arrives. If you thought baby clothes were cute now, you'll be dressing your little one before you know it!
About BabyList
Looking for the best items for your growing family? Add all your favorite baby products to ONE registry with BabyList. You deserve to get exactly what you want.