9 Ways to Lower Your Child Care Costs
9 Ways to Lower Your Child Care Costs
Child care doesn't have to break the bank. Financial assistance programs and low-cost options can save money.
Babylist editors love baby gear and independently curate their favorite products to share with you. If you buy something through links on our site, Babylist may earn a commission.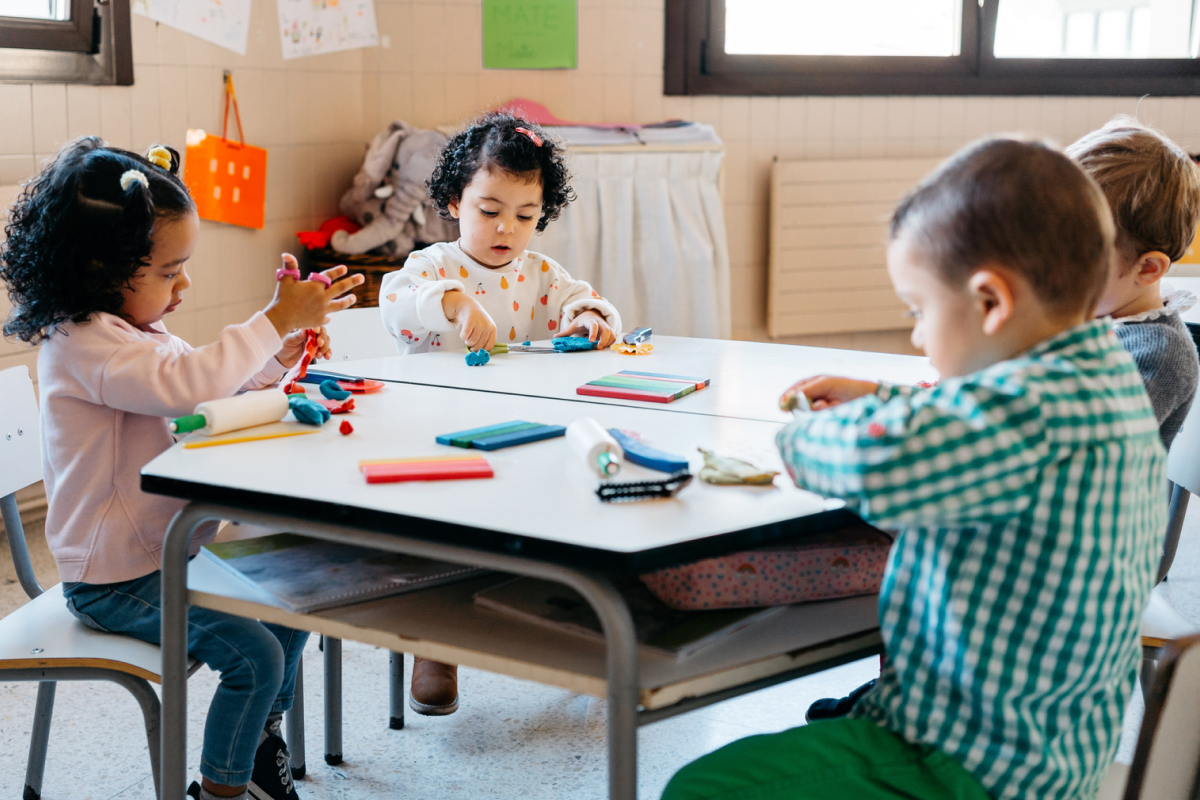 Child care is often one of the largest costs in a family budget. Until your child reaches kindergarten (usually five to six years old), the vast majority of child care options aren't free. Even being a stay-at-home parent comes with the cost of extra physical and mental load, not to mention the lack of extra income.
And with child care costs being higher post-pandemic than ever before, it's extra important for families to understand all their options for keeping the cost of care as low as possible. Fortunately, there are a variety of financial assistance programs you may qualify for that can reduce or even eliminate child care costs. Even if you don't qualify for financial assistance, there are other affordable child care options besides traditional daycares and nannies that won't break the bank but still ensure you receive high quality child care.
In This Article
How much does child care cost?
While it has never really been inexpensive, the cost of child care rose significantly when daycare centers reopened after being closed during the Covid-19 pandemic. The average annual cost of day care for an infant in the US in 2022 was $8,310 to $17,171 depending on where you live, with the cost of care likely to rise in 2023. Based on median family income, that's just under 20% of take-home earnings. If you live in a major city, you could pay as much as 47% of your income on child care.
Another common child care option is to hire a full-time nanny, but the benefit of individualized care comes at a much higher cost. Employing a nanny in 2023 at $15.04 an hour (the national average) for 40 hours per week has an average cost of about $31,000 per year.
Financial assistance programs to lower the cost of child care
Depending on what's offered by your state or your employer, you may qualify for financial assistance specifically for child care expenses.
Government subsidies
Depending on where you live, there may be government programs that can help cover some or all of your childcare expenses. You should check with your local government or social services agency to see all the available options, but these nationwide programs are likely available where you live:
Head Start programs: The Early Head Start (ages infant to three years old) and Head Start (ages three to five years old) programs are designed to provide high-quality early childhood education and development services for young children from low-income families. These programs also offer other comprehensive services including home visits, health services, nutrition counseling, parent education and services for pregnant people.
State-funded pre-K: Some states offer free pre-kindergarten with varying eligibility requirements. Check to see if state-funded pre-K is available to you (and what you need to be eligible).
Employer-sponsored Dependent Care Account
Some companies offer child care benefits such as a Dependent Care FSA (DCFSA). is a type of flexible spending account that allows you to set aside up to $5,000 of your pre-tax income for eligible expenses like daycare, preschool, summer camp and before and after school programs. You can also use a DCFSA for adult dependent care like assisted living facility fees, in-home nurses and meal services.
According to the U.S. Office of Personnel Management, parents save an average of 30% on dependent care when they pay using a DCFSA.
Tax Credits
Once tax season rolls around, you can use the Child and Dependent Care Tax Credit to get some money back for the previous year's child care costs and to help offset future child care expenses. This credit is available to taxpayers who need child care in order to work, look for a job or attend school full-time and have an adjusted gross income of less than $438,000. The credit gives you up to $4,000 for one qualifying dependent (up to $8,000 for two or more qualifying dependents) and must be claimed on Form 2441 when filing your taxes.
Affordable child care options
While daycare centers and nannies have historically been the best known child care choices for American families, they're not necessarily the most cost-effective for families on a budget. Here are some high quality child care options that typically cost much less:
Co-op Daycare
A co-op daycare (also called a Parent Participation Nursery School, or PPNS) is a less expensive yet similarly structured alternative to a traditional child care center. Co-op daycares and preschools are able to keep tuition costs lower by relying heavily on volunteer help from parents. Depending on a co-op's individual structure, parents typically rotate working alongside certified daycare teachers in half-day shifts, taking turns caring for each other's children.
All of the parents in the co-op share the responsibility and cost of running the daycare, including some parents acting as members of the board of directors. Keep in mind that most co-op parents put in about four to eight hours of volunteer time per week, so this may not be a viable option for parents with limited work flexibility. Aside from the lower cost, a key benefit of parent co-ops is the close interaction with your child and their classmates in their school setting.
In-Home Daycare
In-home daycare is another less expensive alternative to center-based care that has most of the same benefits, including structured schedules, socializing for your child and the peace of mind of having a licensed child care provider taking care of your little one. The key difference is that in-home daycares are operated out of a private home, so they're much smaller and accept fewer children (usually about 10 to 12, fewer if there are young infants). The smaller size allows them to offer lower tuition rates, flexible hours, a smaller adult-to-child ratio for more individualized care and more close-knit interactions between parents and staff.
Nanny Share
Nanny sharing is exactly what it sounds like: two or more families split the cost of a full-time nanny, who either works out of just one family's home with all children present at once or splits their time between locations. Nanny shares are most often coordinated through local and online parent groups, and you may be able to join a nanny share already in progress.
Free or Low-Cost Community Programs
Depending on your child's age and needs, there may be free or low-cost programs offered by your local community centers, libraries or recreation department. Many churches or other religious organizations offer low-cost child care services as well. Depending on your church or faith, they may provide daycare, preschool, after school care and even summer camps.
Family and Friends
If you're lucky enough to have family and/or friends nearby who are willing and able to help out, they're often going to be your most affordable option. Having someone you know and love take care of your child can bring peace of mind, but don't hesitate to require that they take a child CPR class or refresh their memory on baby care just to be extra safe.
---
Amylia Ryan is the Associate Editor at Babylist, where she writes and edits content on health, wellness, baby products and more. Before dedicating herself to helping new parents learn all about life with a baby, she worked in book publishing as an editor. She still sometimes edits books on the side, but the majority of her free time is dedicated to her two children.
This information is provided for educational and entertainment purposes only. We do not accept any responsibility for any liability, loss or risk, personal or otherwise, incurred as a consequence, directly or indirectly, from any information or advice contained here. Babylist may earn compensation from affiliate links in this content. Learn more about
how we write Babylist content
and the
Babylist Health Advisory Board
.
The freshest in parenting this week, delivered to your inbox