Best Toddler Nap Mats
Whether you need a nap mat for daycare, preschool or on-the-go, these picks are toddler-tested and parent-approved.
Babylist editors love baby gear and independently curate their favorite products to share with you. If you buy something through links on our site, Babylist may earn a commission.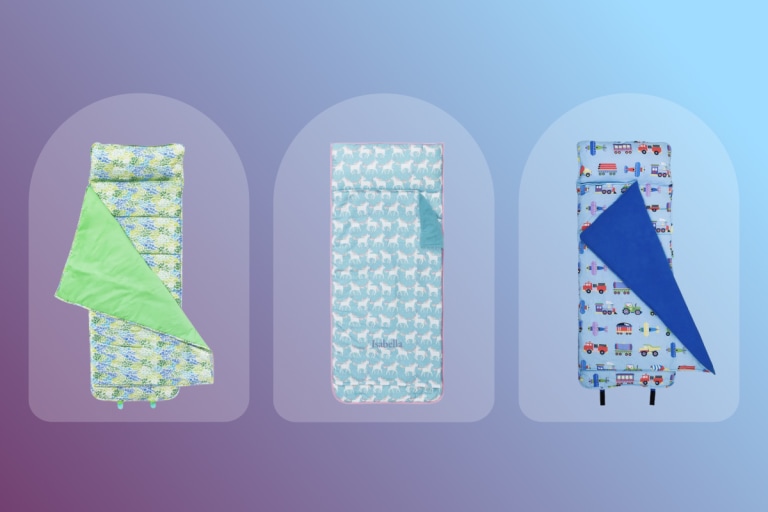 More than just a pint-sized sleeping bag, a nap mat is an all-in-one sleep solution that includes everything your toddler needs for a restful snooze—all bundled into one convenient package. Nap mats help create a comfortable, familiar spot for your little one to sleep or rest when they're away from home. They also promote toddler independence and a sense of routine.
Many daycares and preschools require nap mats for naps and rest time. If you're shopping for a nap mat for a school setting, you'll want to make sure the one you choose meets any special requirements your school has in place. If you're hoping to use a nap mat for your own travel or to create a fun sleep space at home or at the grandparents', you can lean more into your toddler's preferences (or your own!) when making your choice.
We considered features like durability, washability, materials, price and real-life parent and toddler reviews when choosing our best nap mats. These are our favorite picks plus the rundown on what to look for in a toddler nap mat and how to choose the best option to meet your needs.
Babylist's Top Picks for the Best Nap Mats
In This Article
Babylist's Picks for the Best Nap Mats
Best Toddler Nap Mat
Well made, durable, comfortable, portable and available in tons of toddler-friendly prints, this nap mat is a popular pick that has a lot going for it. The all-in-one design has an attached blanket and a removable (and washable) pillow, all made from a soft blend of cotton and polyester. The mat rolls for easy travel and there are hook and loop straps and a carry handle to keep it all contained. And with prints like dinos, trucks, safari animals, robots and more, there's something for every toddler obsession.
Two things worth noting: the mat is machine washable but needs to be hung to dry, something to consider if you're washing it frequently, and there are no elastic loops so it won't stay put on a cot.
Additional Specs
| | |
| --- | --- |
| Size | 50" x 20" x 1.5" |
| Material | Cotton and polyester |
Best Toddler Nap Mat for Daycare
Most parents we spoke to with toddlers in a school setting either use this nap mat themselves or know someone who does—because it's packed with daycare-friendly features. The elastic loops on each corner help keep the mat in place on a cot or on any slightly raised sleep surface like a floor mat. It's both machine-washable and dryer-safe, nice-to-have features when you're washing your mat every week. It even includes a tag to label with your little one's name. The nap mat comes in over 25 fun prints and features a sewn-in fleece blanket and a removable, washable pillow and can be used with children from two to five years old.
Additional Specs
| | |
| --- | --- |
| Size | 52" x 22" x 1" |
| Material | Cotton and polyester |
Most Stylish Toddler Nap Mat
You can always rely on Pottery Barn Kids for products that are as beautiful as they are functional. The brand's toddler nap mat meets those expectations and more. From princesses and rainbows to construction vehicles and baseballs, there are so many toddler-friendly prints and color palettes to choose from (and lots of matching accessories like backpacks, lunch boxes and more). You can even add a name or monogram for an extra touch of personalization. These nap mats are ultra soft, too; they're made from a microfiber blend to keep your little one cozy and warm while they're drifting off. Like all the nap mats on our list, the whole thing rolls up for easy portability.
Pottery Barn Kids nap mats include a built-in pillow, but it's not removable. And the entire nap mat is machine washable but needs to be laid flat to dry.
Additional Specs
| | |
| --- | --- |
| Size | 51" x 21" x 2" |
| Material | Polyester microfiber |
Best Organic Nap Mat
If you prefer organic materials, the Lovevery Nap Mat is our top pick. It's the priciest on our best-of list, but the cotton material is 100 percent organic and OEKO-TEX certified. The nap mat includes a padded mat, a built-in blanket, a removable pillow and custom buckles designed specifically for little hands. You can use it from 18 months until about five years old and although you'll need to air dry it, it is machine washable. (Minus the pillow, which is spot-clean only.) We also love the bright, cheerful gender-neutral design.
Additional Specs
| | |
| --- | --- |
| Size | 55" x 20.5" |
| Material | Organic cotton |
Best Personalized Toddler Nap Mat
Etsy is always worth a look if you're on the hunt for something personalized and unique. With hundreds of five-star reviews (you can't argue with comments like, "This may be my favorite item I have ever purchased on Etsy,") this toddler nap mat is a solid choice. You can make it completely your own with a combination of custom patterns, colors, monogram styles, font options and even thread colors. The nap mat features a padded sleep mat, a blanket with a plush minky lining, a removable, washable pillow and a carry handle and front pocket. There are also two hook and loop straps to hold everything in place when the nap mat is rolled.
For a more affordable personalizable option, check out the Delta Children Nap Mat on Amazon.
Additional Specs
| | |
| --- | --- |
| Size | 52" x 20" |
| Material | Minky |
Best Affordable Toddler Nap Mat
If you're unsure about how your toddler will react to a nap mat or simply don't want to spend a lot of money, this $30 option is a really good choice. It has thousands of positive reviews and includes all the same features as higher-priced toddler nap mats like a padded sleep space, a plush built-in blanket and rollup design with closure straps and a carry handle. You can wash and dry the mat and remove the pillow for easier cleaning, and it comes in over 15 different prints.
Additional Specs
| | |
| --- | --- |
| Size | 50" x 20" |
| Material | Microfiber polyester |
Best Favorite Character Nap Mat
Sometimes all it takes is a favorite character to help nudge your toddler to do something they may not otherwise be keen on—and who better than Bluey and Bingo, everyone's favorite dogs? This machine-washable, dryer-safe nap mat includes a sewn-in pillow and a lightweight blanket. It's on the thinner side, so it's not a great choice if you're looking for a nap mat with extra padding. It's also smaller than the other mats on our list so it's better suited for younger toddlers rather than older kids. But if you've got a Bluey fan in the house, we promise not much else will matter.
Additional Specs
| | |
| --- | --- |
| Size | 46" x 20" |
| Material | Polyester |
Coziest Toddler Nap Mat
Lined with ultra-soft minky fabric, this nap mat gets our vote for the coziest on our list. The prints are pretty and unique, and you can wash and dry the whole mat (minus the removable pillow), a feature we very much appreciate. The mat also comes in two different sizes: a 43-inch length for younger toddlers, and an extra-long 53-inch option for larger toddlers and bigger kids. Parents love the quality and how easy this nap mat is to roll up and take on the go.
Additional Specs
| | |
| --- | --- |
| Size | 43" x 21" x 2" |
| Material | Cotton |
How We Chose the Best Nap Mats
We utilized insight from the Babylist editorial team, including Gear Editor Jen LaBracio, an expert in the baby space for over six years and a mom of two who has written hundreds of baby gear guides and personally researched and tested hundreds of baby products, and Alainna Wurfel, Newsletter Editor and mom of a young toddler in daycare.
We reviewed hundreds of real user reviews.
What is a Nap Mat?
A nap mat is a portable mat that is specifically designed for toddlers and older children to take naps or rest on. Nap mats are commonly used in preschools, daycares and other childcare settings where children may need a designated space to nap or rest, but they can be used at home or for travel, too. Most nap mats consist of a soft, cushioned surface to support your little one while they sleep or rest, and some may have additional features like an attached pillow or blanket or built-in carry straps. They are lightweight and easy to transport and come in various sizes and designs.
Types of Nap Mats
There are two basic types of nap mats:
Nap mats that feature elastic loops sewn into each corner. These loops help secure the mat to the corners of a cot or other raised sleep surface like a small padded mat. Most of these nap mats also feature an attached blanket and a pillow. Depending on the brand, the pillow may or may not be removable.
Nap mats designed to be used directly on the floor. These all-in-one mats include a padded sleep surface and a built-in blanket and pillow. These mats won't stay put on a cot, but can be used atop a padded floor mat.
Most nap mats are recommended for children ages two to five years old. Never use a nap mat with a child who's under one year old; it's not a safe sleep space for infants and babies.
Features to Consider When Shopping for a Nap Mat
Type of Nap Mat
If you're planning on using your mat at home or on the go, the type you choose may come down to personal preference. But if you're using it in a daycare or preschool setting, you'll want to check with your child's school on their sleep arrangements and what type of nap mat they require or prefer.
If your little one is sleeping on a cot or a slightly raised sleep surface on the floor (such as a padded floor mat), opt for a nap mat with elastic corners sewn in to help keep the mat in place. If they're sleeping directly on the floor, an all-in-one padded nap mat is a good choice. Note that depending on the sleep setting, some daycares and preschools may allow a top sheet and blanket in lieu of a nap mat, so that could be an option too.
Also, consider how independent your child may need to be with their nap mat. Is your toddler in a large daycare class where each child is responsible for setting up their own sleep space? A nap mat that's easy to roll out and set up can help build your little one's sense of independence—and make nap time a little easier on their teachers, too.
Washability
While your toddler won't be dragging their nap mat through the mud (we hope), accidents happen, so a fully machine-washable nap mat is a must. Not all mats are dryer-safe, so if you'll be washing your mat regularly, it's another time-saving feature you may want to consider.
Pillow Options
Most nap mats come with a built-in pillow. Sometimes these pillows are removable (a plus for easier washing), and sometimes they aren't. Another big pro of a built-in pillow is that it's one less thing for your child to lose. It also makes setting up the nap mat a little easier.
Materials
Creating a cozy, comfortable sleep space for your toddler can help them actually look forward to nap time. Consider a nap mat made from cotton or another soft, cushy material. Also pay attention to how padded the bottom portion of the nap mat is, especially if your little one will be using it directly on the ground.
Portability
If you're taking your nap mat on the go or if your little one needs to move it from their cubby to their sleep space during school nap time, look for a nap mat that's lightweight, easy to roll and features built-in carry handles.
Prints and Design
While a nap mat emblazoned with Spider-Man may not be your ideal design aesthetic, many toddlers may disagree. Choosing a nap mat with a favorite character, color or design may help your toddler get excited about their next snooze.
This information is provided for educational and entertainment purposes only. We do not accept any responsibility for any liability, loss or risk, personal or otherwise, incurred as a consequence, directly or indirectly, from any information or advice contained here. Babylist may earn compensation from affiliate links in this content. Learn more about
how we write Babylist content
and
review products
, as well as the
Babylist Health Advisory Board
.
The freshest in parenting this week, delivered to your inbox