4 Clean Baby Product Swaps That Work
4 Clean Baby Product Swaps That Work
Babylist editors love baby gear and independently curate their favorite products to share with you. If you buy something through links on our site, Babylist may earn a commission.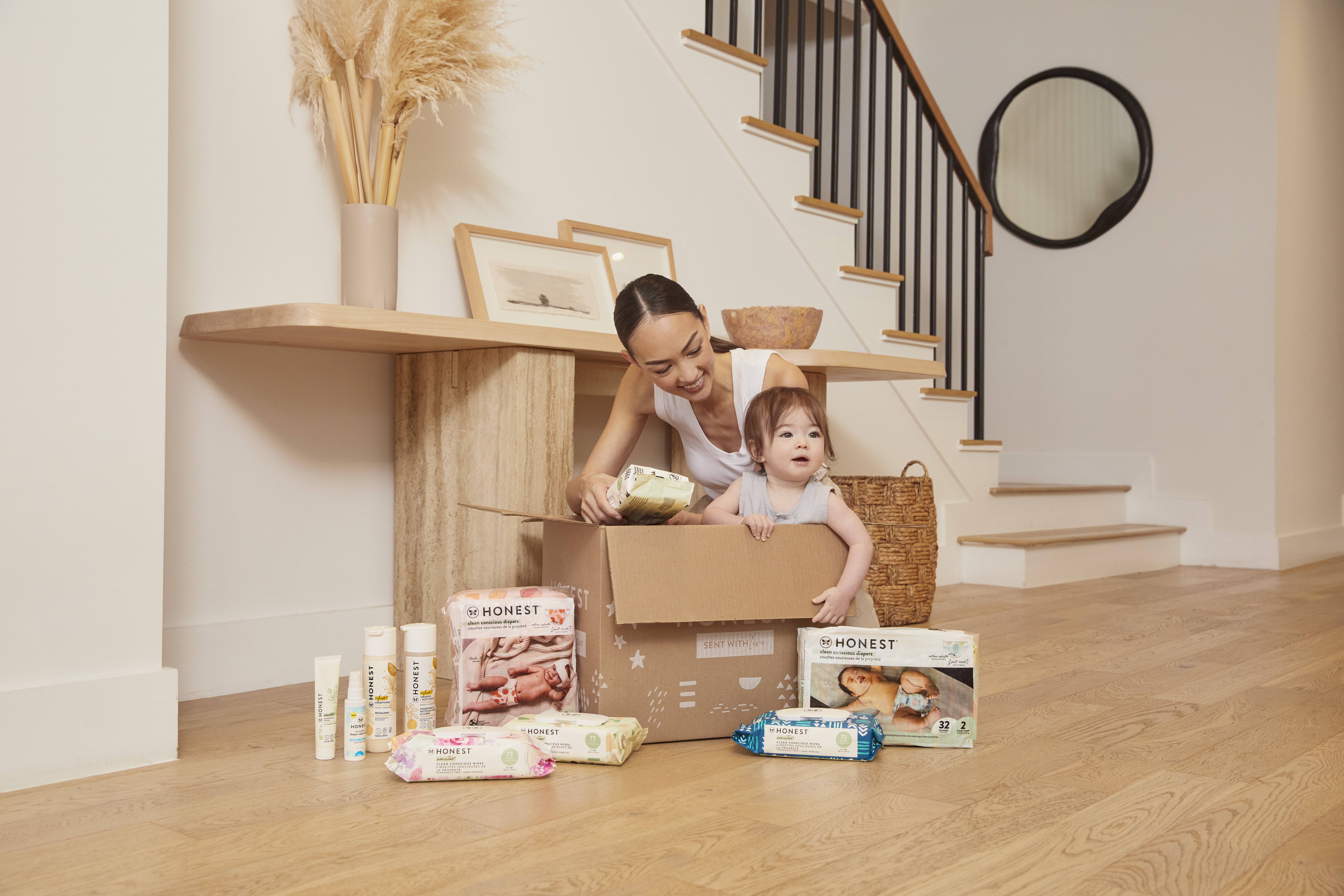 If you've ever tried to clean your bathtub with nothing but vinegar and optimism (and then busted out the industrial bleach later when no one was looking), you know that choosing better-for-the-planet options aren't always an easy swap—especially when your time and energy is limited by, say, a new baby. But there's a lot of middle ground between all and nothing when it comes to making cleaner choices for your baby. Here are four clean baby essential swaps you can make without sacrificing ease or functionality.
A More Earth-Conscious Diaper
Babies typically go through over 2,000 diapers in the first year alone. So anything that makes them a little more sustainable can have a pretty significant impact.
How It's Different:
These diapers from Honest are super absorbent, but have an outer layer made from plant-based materials and a thinner design that helps save over 7,000 trees a year. The inner core is made from wood that's harvested from sustainably managed pine and spruce trees. And they have special quick-absorbing channels that help distribute liquid for faster absorption, keeping that cute little bum dry, which means fewer diaper rash worries.
What You Don't Lose:
These diapers don't make you sacrifice functionality for earth-consciousness. In addition to those absorbency channels, you also get the almighty wetness indicator (the little line that shows when your baby has peed). Plus these diapers grow with your baby, with handy features for different ages and stages, like a belly button cutout for newborns or super stretchy sides for when baby grows and starts to wiggle and wobble.
A Wipe That's Compostable
Wipes are basically the currency of new parenthood: you can use them for anything, from diaper changes to wiping down countertops and high chairs to cleaning mystery baby goo off your clothes. So they tend to pile up in your diaper pail.
How It's Different:
Honest's plant-based baby wipes are fully compostable—that means they break down into the soil in just eight weeks. * And unlike some other earth-friendly products where "compostable" means you have to take them to a special facility to break down, these ones are certified for both at-home compost and industrial composting. *
What You Don't Lose:
Earth-friendly wipes are great, but you still need them to do their (very dirty) job. Honest baby wipes are extra thick and durable, made with over 99% water, and still hypoallergenic for that sensitive baby skin.
Better-for-Baby Bath Stuff
Babies have much more sensitive skin than grownups. Which means they're more susceptible to irritation. They also tend to find themselves covered in poop and spit-up, which means you need bathtime gear that's both effective and gentle.
How It's Different:
Honest has what they call their "NO List," which is a list of over 3,500 chemicals and materials that they won't include in any of their products (you can read more about it here). The end result is that their baby bath products are made from naturally derived ingredients without parabens, silicones, phthalates, dyes, synthetic fragrances or other things that make baby's skin more prone to irritation. They're also never tested on animals.
What You Don't Lose:
These bath products still smell really good (if you want them to! There's also a fragrance-free option). And with naturally derived ingredients like chamomile extract, aloe and jojoba oil, they're effective enough to be used on babies and adults.
A More Conscious Cleaning Kit
Babies have a tendency to touch every surface of your house and then…put their hands in their mouths. Which means you may find yourself upping your standards of cleanliness.
How It's Different:
This refillable cleaning kit comes with three reusable spray bottles and cleaning solution pods: one for glass, one for bathrooms and one for everything else. Since the bottles are shipped without water (you add that at home), they use fewer emissions to get to you. And since they're reusable—just add a new pod when you run out—you end up using way less plastic.
What You Don't Lose:
Remember that thing about cleaning the bathtub with vinegar? Well, these will clean your house without making it smell like you're pickling vegetables. And that's without any phosphates, parabens, phthalates, bleach, chlorine, synthetic fragrances or anything else on the NO List.
Being thoughtful about the planet and maintaining your sanity as a new parent don't always have to be mutually exclusive. Small swaps can add up and make a big difference over time. Check out Honest's complete line of baby essentials for more smart swaps.
This article is sponsored by Honest. Babylist's free site, apps and emails are made possible by our sponsors. We limit our sponsored content to relevant partners that offer products and services we believe in and use ourselves.
*Certified by TÜV AUSTRIA for OK compost HOME and OK compost INDUSTRIAL.
This information is provided for educational and entertainment purposes only. We do not accept any responsibility for any liability, loss or risk, personal or otherwise, incurred as a consequence, directly or indirectly, from any information or advice contained here. Babylist may earn compensation from affiliate links in this content. Learn more about
how we write Babylist content
and the
Babylist Health Advisory Board
.
The freshest in parenting this week, delivered to your inbox