Video: 3 Ways to Save Space with Baby Gear
Video: 3 Ways to Save Space with Baby Gear
Maximize your space with these sleek, stylish and functional items that'll get plenty of use.
Babylist editors love baby gear and independently curate their favorite products to share with you. If you buy something through links on our site, Babylist may earn a commission.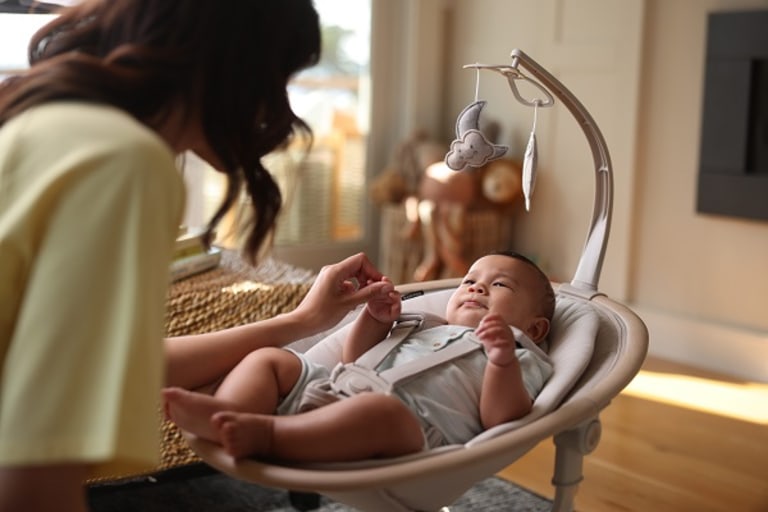 Baby gear gets a bit of a bad rap for taking over once your little one arrives. But there are actually a lot of ways to save space when it comes to three of the biggest baby gear categories: sleeping, eating and sitting—like opting for a sleek footprint, gear with multi-functional uses or essentials that can transform as baby grows.
We partnered with Maxi-Cosi to share three tips for saving space when bringing home baby. Watch the video above to see their At Home collection (in a Classic Oat color exclusive to Babylist!) IRL and learn how you can maximize your space, without sacrificing functionality
Space-Saver #1: Portable Sleep Spaces
The American Academy of Pediatrics (AAP) recommends that baby sleep in their own space in your room, ideally for at least the first six months. But what if your bedroom isn't the size of a luxe hotel suite, or if you'd like baby to sleep in other rooms during the day (without buying multiple sleep spaces?) A portable sleep option can be useful at home and on the go, and typically have a smaller footprint than traditional bassinets or cribs. Here are two ways to do it:
This bedside bassinet folds flat for storage and transport (and even comes with a travel bag). It adjusts up and down and side to side for easy access from any size bed, with all-mesh walls that allow you to see baby from any direction (ideal for funky room layouts). Plus, the large storage basket underneath can hold extra changing and feeding supplies—and late-night snacks for the parents—saving you extra storage space in your room. Keep in mind: you can only use a bassinet for the first five months or so—or until baby can push up on their hands and knees—so you will need another sleep solution after baby outgrows it.
Although not quite as sleek as the bedside bassinet above, this multi-purpose playard is about a foot shorter than a traditional crib, and converts from bassinet mode to toddler mode. This means baby can use it from birth to well beyond the first year for both sleep and play (with a 2-stage mattress for extra comfort). This one also has a convenient one-handed fold for storage or on-the-go (you can watch at the :54 mark in the video above).
Space-Saver #2: Small-Footprint Seats
For many parents, having a place to put baby down that can help soothe fussiness, provide entertainment and give your hands and arms a break can be well-worth the tradeoff of losing some floor real estate. But opting for a compact rocker or swing (or both) with multiple modes of use can save space and prevent seldom-used items from piling up in a corner. Here's what to consider:
Some baby swings take up a lot of floorspace. But this lightweight smart swing has a space-saving frame design, can run on batteries and rotates 360 degrees (something you don't usually see on swings) That means you can turn your baby to face you as needed without moving the entire swing (helpful if you need to do something like prep dinner in the kitchen or fold laundry at the table and still want baby in view).
It's also only 10 lbs so you can easily move it around your home. As an added bonus, the optional automatic motion detector activates movement when it senses baby is getting fussy, or you can manually control the five swing speeds and 12 built-in sounds.
If you want something that takes up even less space, weighs less and isn't restricted by proximity to a power outlet or remembering to keep batteries charged, a rocker or bouncer may be a better choice for you. A 2-in-1 like this offers two ways to soothe and folds flat, so you can tuck it away when not in use or take it with you when you leave the house. Instead of electronic movement though, you do have to power the motion yourself. But it's worth noting that some babies actually prefer the motion of a rocker over a swing (it depends on your baby!).
Space-Saver #3: Multi-Mode High Chairs
Soon enough, a high chair will likely become a permanent fixure in your kitchen, so it can be helpful to choose one that won't hog up all of your prep space. This 8-in-1 high chair can be set up without needing to use any tools, and transforms into virtually every type of seat baby will ever need well into toddlerhood—from high chair to booster seat to toddler stool and even a desk or a play stool.
But if you really want to cut down on gear and space space this 6-in-1 high chair can be used as an infant seat from birth before converting to a regular high chair, booster seat and stool you can use for years. And since the high chair has a slim, compact fold, you can tuck it out of sight and out of mind when you're not using it.
Bringing a new family member into your home and routine is always an adjustment. But that doesn't mean you have to give up on your pre-baby space or style. Watch our full video review of Maxi-Cosi's At Home collection in the Babylist-exclusive Classic Oat for more tips on how to save space with baby gear.
This article is sponsored by Maxi-Cosi. Babylist's free site, apps and emails are made possible by our sponsors. We limit our sponsored content to relevant partners that offer products and services we believe in and use ourselves.
This information is provided for educational and entertainment purposes only. We do not accept any responsibility for any liability, loss or risk, personal or otherwise, incurred as a consequence, directly or indirectly, from any information or advice contained here. Babylist may earn compensation from affiliate links in this content. Learn more about
how we write Babylist content
and
review products
, as well as the
Babylist Health Advisory Board
.
The freshest in parenting this week, delivered to your inbox