Best Toddler Rain Jackets
Best Toddler Rain Jackets
Splish, splash and (most importantly!) stay dry.
Babylist editors love baby gear and independently curate their favorite products to share with you. If you buy something through links on our site, Babylist may earn a commission.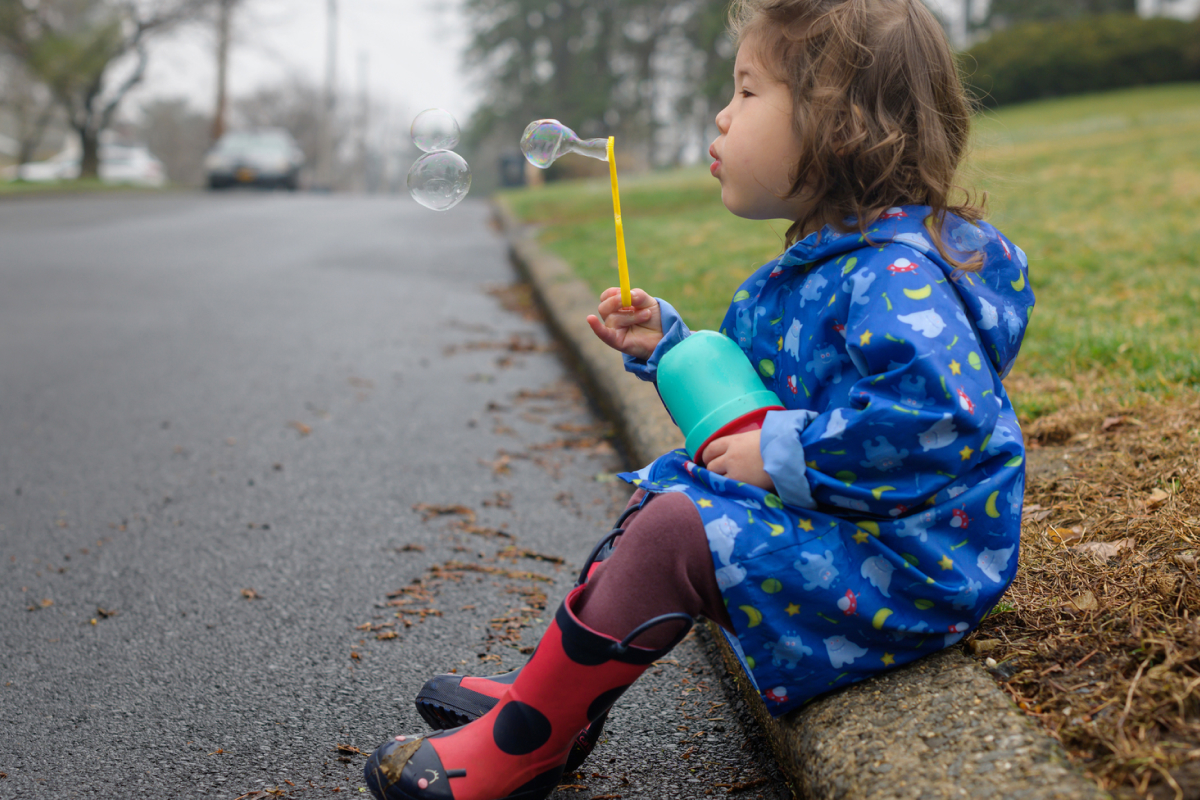 Ready for some puddle jumping? Rain + kids can feel like a daunting combination, but having the right gear can make for a fun outdoor adventure. A high-quality toddler rain jacket is a great place to start.
What to Look for in Toddler Rain Jackets
Choosing the best rain jacket for your toddler doesn't have to be overly technical. (Puddle jumping isn't an Olympic sport, after all.) Considering things like your little one's favorite color or picking a raincoat for its bright, fun pattern can all factor in. But there are a few features you'll want to think through before you start shopping to be sure you're choosing the best toddler rain jacket for your particular needs.
Material
Your toddler's rain jacket will be in constant contact with the elements, so the material it's made from is pretty important. (Also no one—especially a toddler—likes wet clothes!) Water-resistant material will do what its name implies: resist water. But it won't repel it completely, so factor that in depending on how often and in what type of climate your toddler plans on wearing their raincoat. Waterproof material is completely impenetrable to water. It will keep your toddler fully dry and is the best choice if your little one plans on regularly playing outside in anything from a drizzle to a full-on downpour.
Lining
Toddler rain jackets come both lined and unlined. Lined jackets have a layer of fleece or sweatshirt-like material to keep your little one extra warm, while unlined raincoats are just a shell made from either water-resistant or waterproof material. Both are fine; which one you prefer depends on your climate. If it's chilly where you live, opt for a lined toddler rain jacket, but if not, an unlined coat will work just as well.
Washing Instructions
Take a quick peek at the washing instructions for the jacket you're considering before you buy. Not all toddler rain jackets are machine washable (some are hand-wash only), and many can't be tossed in the dryer, so consider what you're okay with—and what you're not—before you make a purchase.
Style
Don't forget style! Toddlers are notoriously picky, so choosing a color, pattern or favorite character that you know they'll love will go a long way to ensure they actually want to wear the coat you spent so long choosing for them.
Frequently Asked Questions
What should a toddler wear in the rain?
What your toddler will wear to play in the rain will depend on what the climate is like where you live and how long and often your toddler will be outside. Most toddlers will need at least a waterproof raincoat. If your toddler attends an outdoor school or class, or simply likes to splash around outside often, you can add waterproof toddler rain pants or overalls, rain boots and a hat or hood.
Which raincoat is best for heavy rain?
The best toddler raincoat for heavy rain is one that is waterproof, breathable and lightweight. It should also have a hood to keep your little one's head dry. Look for features like taped seams, a drawstring to adjust fit and a storm flap on the front zipper.
How much do kids' rain jackets cost?
There's a wide range of prices for toddler rain jackets depending on style, quality and material. Generally, you can expect to pay between $20-$30 for a basic toddler raincoat, while more technical or designer options can cost upwards of $80-$100.
How We Chose the Best Rain Jackets for Toddlers
To choose the best toddler rain jackets we utilized insight from the Babylist editorial team, including Gear Editor Jen LaBracio, an expert in the baby space for over six years and a mom of two who has written hundreds of baby gear guides and personally researched and tested hundreds of baby products. We also researched over 25 different toddler raincoats and read customer reviews.
This information is provided for educational and entertainment purposes only. We do not accept any responsibility for any liability, loss or risk, personal or otherwise, incurred as a consequence, directly or indirectly, from any information or advice contained here. Babylist may earn compensation from affiliate links in this content. Learn more about
how we write Babylist content
and the
Babylist Health Advisory Board
.
The freshest in parenting this week, delivered to your inbox