New Tech: This Smart Monitor Tracks Heart Rate & Rollovers—Even On-the-Go
New Tech: This Smart Monitor Tracks Heart Rate & Rollovers—Even On-the-Go
Babylist editors love baby gear and independently curate their favorite products to share with you. If you buy something through links on our site, Babylist may earn a commission.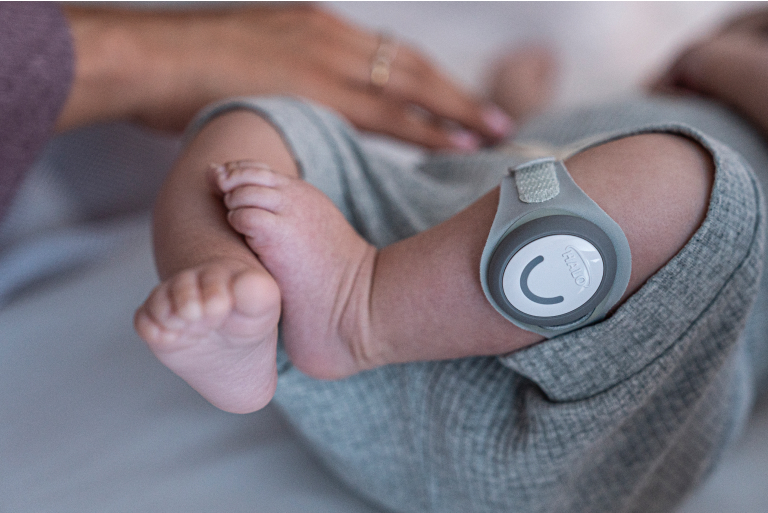 Cracking the baby sleep code can be tough (more coffee, please)—and monitors that give you extra info about your baby's sleep can be super helpful. But bedtime can be complicated enough. How do you get that extra info without overcomplicating your routine? The HALO SleepSure monitor tracks rollover, heart rate, skin temperature and movement (and it's about as easy to put on as a bracelet). Real-life parent Daniel tested it out with his six-month-old daughter, Mayhem, in the video above.
What the HALO SleepSure Baby Monitor Does
HALO is probably best known for their simple, yet effective sleep gear that parents love—like the BassiNest (the swiveling bassinet that you can pull right up to your bed) and their wearable SleepSacks (aka no-fuss Velcro swaddles). They've applied that same approach to this new wearable smart monitor.
With that in mind, it's worth noting that the SleepSure is not a baby monitor in the traditional sense—there's no video feed here. Instead, it uses a soft and flexible band that wraps around baby's calf to track four key measures in real time:
Heart Rate: Baby's heart rate will display in real time, and according to reviews about the SleepSure, parents love this feature for checking up on baby without having to physically go into their rooms.

Rollover Alerts: It can be super exciting when baby starts to roll, but also kind of nerve-wracking. It also means it's time to stop swaddling or switch to an arms-out swaddle. This helps you keep an eye on baby so you know when to make that transition.

Skin Temperature Alerts: Is baby dressed warmly enough at night? Do they need another layer? As the seasons change, having SleepSure keep an eye on baby's skin temperature can let you know if you need to take off long-sleeve jammies or turn on the air.

Movement Alerts: Whether your baby shifts gently or randomly thrusts an arm up into the sky (hello, startle reflex), the SleepSure lets you monitor baby's motion and movements, then see their activity level on the app. Need to pick baby up for a diaper change or feeding but don't want to turn off the monitor? Use the "Delay Notifications" button to silence all notifications and alarms for 30 minutes.
How does the HALO SleepSure collect all of this info? You just wrap a little band around baby's calf and you're off. There are three different band sizes already included in the box, so baby can keep wearing the monitor as they grow. It's about as complicated to put on as a diaper (just wrap and fasten). And definitely less complicated than a pair of jammies with snaps.
Plus, unlike many other smart monitors that require you to be near a home wifi connection and/or a camera to get these insights, the HALO SleepSure has On-the-Go Mode that lets you monitor your baby's stats when you're out together (you can see how on-the-go mode works at the 1:55 mark in our video). There's no other monitor that lets you keep tabs on baby while you're out on a stroller walk or in the car seat.
The HALO SleepSure is also fully customizable. You can adjust all of the alerts—for example, rollover isn't that relevant to newborn babies, so parents can toggle it off until they reach three or four months and are transitioning into rolling. After baby has mastered rolling, parents can turn it off again. You can also adjust your preferences to set the sensitivity levels for movements. If you have a baby who's constantly shifting in their crib and you don't want to know about every movement, you can set the monitor to be a little less sensitive.
Why You'd Want That
Baby sleep routines change all the time; despite grown-up's efforts to keep things steady. The HALO SleepSure helps you figure out what could be affecting your baby's sleep, whether that's rolling over (yay!) or an environmental factor like the weather. Instead of guessing what's going on, you have the info at your fingertips.
So if you think you'll be the type of parent who's going to lose sleep once your baby starts rolling, or who wants real-time heart rate info on a long car ride, then the HALO SleepSure might be for you. Plus, with the ability to use it outside of baby's crib, you can keep an eye on your little one's info and sleep habits anywhere you go (because they sure do love to sleep wherever and whenever they feel like it). Watch our full video review to see this gear in action. 
SleepSure is not a medical device and should not be used as a medical device. It is not designed or intended to detect, diagnose, monitor, prevent, treat or cure any disease or other health condition, including but not limited to, Sudden Infant Death Syndrome (SIDS). SleepSure is designed to provide parents and caregivers with information to assist them in creating a comfortable sleep environment for their baby.
This article is sponsored by HALO. Babylist's free site, apps and emails are made possible by our sponsors. We limit our sponsored content to relevant partners that offer products and services we believe in and use ourselves.
This information is provided for educational and entertainment purposes only. We do not accept any responsibility for any liability, loss or risk, personal or otherwise, incurred as a consequence, directly or indirectly, from any information or advice contained here. Babylist may earn compensation from affiliate links in this content. Learn more about
how we write Babylist content
and the
Babylist Health Advisory Board
.
The freshest in parenting this week, delivered to your inbox