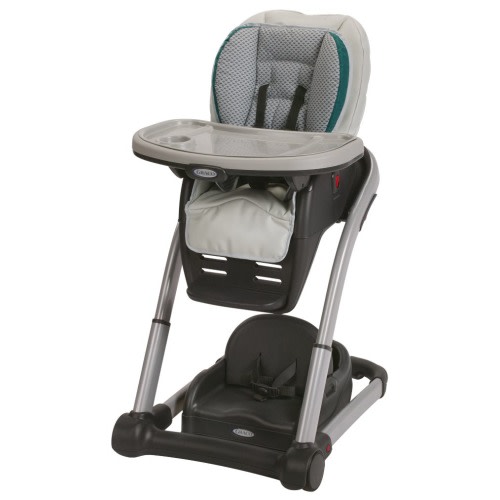 This 4-in-1 seating system can work for any age of child, or even be split apart to seat two children. Great investment for a growing family.
Graco Blossom 4-In-1 Seating System
$189.99
Color: Sapphire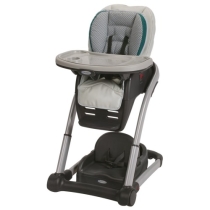 Availability: Out of Stock
Product Details
A 4-in-1 seating system? What does that mean? Well here are the four different things this chair can be:
The highchair is a highchair. A really nice one. Not much to explain there.
The infant feeding booster is basically the top part of the high chair removed from the high chair legs. You use it by strapping it onto a normal chair, and it's easier to pack when traveling than a full highchair.
The toddler booster is similar, but more minimal. For one thing, the toddler doesn't need the tray, they use the table. Also on the toddler booster, instead of a reclining seat back there's just a bit of plastic for scooching the toddler closer to the table.
The youth chair is the bottom part of the highchair by itself. It basically just looks like a minimal plastic seat on top of the highchair's legs.
The coolest thing about this 4-in-1 seating system is it can actually seat two children simultaneously -- the differently aged children just use different parts of it. Keep in mind this can be used from BIRTH: it comes with an infant insert that adds extra padding to make the seat small enough for a tiny newborn. Why would you put a newborn (who can't sit up yet!) in a high chair, you might ask? Well, the high chair seat can do a full recline, and you can bottle feed them as they lie down in the reclined chair.
The only real complaint we've heard about this high chair is that the infant insert isn't quite firmly enough attached (you have to adjust it into place a lot). Except for that, the highchair is really user friendly. You can slide off the tray with one hand, it's really easy to move the seat between the three recline position, and you can remove the baby without having to remove the tray. This not only perfectly adapts to the needs of a growing family, it's a pleasure to use. Great price too, especially considering the extended use you'll get out of it.
Despite having so many features, it's not too much of a space hog. The wheels let you position it anywhere in your kitchen, and you can lock the wheels when you set it in place so it doesn't slide around. You can also adjust it to any of six different height positions, so it's fine to use it with different tables. The footrest that comes with it is adjustable too with three positions for your child's growing legs. For safety, there's an adjustable harness than can be either three or five point.
It's very easy to wipe down and clean with no annoying cracks for food to stick in. The top of the trap comes off and you can put it in your dishwasher -- isn't that handy? The tray is VERY generously sized which helps contain more of the mess to the tray. You can wipe down the seat cushion with a cloth or remove to wash it for really messy days.
Specifications:
41" x 22.5" x 29"
Weight: 31.8 lbs
Tray dimensions: 29" x 25:
Dishwasher safe tray insert
Wipeable and machine washable seat pad
Wipeable plastic tray, footrest, and frame
3 or 5 point harness
WEIGHT AND AGE LIMITS
Highchair: Must be under 3 years / 40 lbs
Infant Feeding Booster: Must be under 3 years / 60 lbs
Toddler Booster & Youth Chair: Must be under 60 lbs. If the child is under 3, use the removable seat back insert.
User Reviews (11)
Great seating system with removable tray for cleaning and adjustable height. Easy to assemble and has wheels for moving around the house. Not ideal for smaller living space.
Perfect no-frills, easy to clean high chair. Love that it's on wheels, is height adjustable (footrest is adjustable too), and has a removable tray layer. The convenience of transitioning this into a chair seat, or being able to use the booster seat alone is a huge advantage, especially when other kids visit. Don't worry too much about the pattern you choose. It's only on the infant insert that you'll stop using shortly after they begin using the high chair.
We've been able to use this high chair since my baby was three months old. The back reclines easily with one hand for infants and bottle feeding. The high chair seat snaps onto a base for attachment to a regular dining chair. This made traveling to our families' house super easy for holidays and family dinners. This highchair will take you all the way through to independent table sitting. It's also very easy to clean.
Amazing in every way! Wheels are a must have. I didn't realize how handy its wheels would be, but we wheel baby around a lot. We also can position her at a corner of the table to save space.
Easy to wipe down, convertible for various uses. We wheel the babe around the kitchen so he's where we want him - which he sometimes thinks is fun. We can also recline the seat so he can give himself a bottle.
First of all it is very comfortable for my baby as it is cushioned and is nice and roomy while at the same time does not give him too much room to wiggle around. Also, it has a great support system that keeps them in nice and tight which is great because my toddler is a little wild and I know that he is safe when he is in it. Another plus in my eyes is it is easy to clean both tray and chair - the tray is easy to disconnect and clean either by hand or by dishwasher (it is dishwasher safe) and the chairs made of a material that I can easily wipe down and doesn't stain. The wheels are easy to maneuver so it's easy to move the chair from room to room if I need to and the height adjustment allows me to fit any high that I need. Overall I am very happy with this chair! I have not yet had the chance to use it with two children but I am definitely looking forward to it and the fact that it disconnects to use for two children is a big plus on its own in my opinion. Also it never hurts that it's really nice looking chair :) We at home call this his little boys Rolls Royce ;).
Very easy to use the various attachments. Easy to clean. Portable seat gets tons of use when we go to a restaurant or friends'/family's homes. The base is larger than a traditional highchair, so it may not be ideal for a tiny kitchen. However, the wheels (that have brakes) make it easy to move from spot to spot.
Fantastic seat that is on wheels so it can go anywhere and makes it easy to move him from place to place (kitchen to dining room, etc). Really easy to clean and the lift off tray is amazing!
Very versatile and can be used from a very early age due to the reclining seat-back.